African All Stars
Plateau's Patrick Kamshnen targets win over Abuja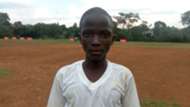 Government Secondary School, Plateau forward, Patrick Kamshnen wants his team to defeat Fosla Academy when both sides lock horns in Ilorin on Wednesday.
The forward states he is focused on netting a brace against the FCT outfit on the second day of the Ilorin regionals.
"We played well, but we hope that we will win next time," Kamshnen told Goal.
"When we played, the strikers and defenders were talking and we lost focus and that really affected our game.
"We want to win comprehensively tomorrow [Wednesday], not 1-0. We want to win 3-0, or 4-0 and more. And I want to score two of those goals tomorrow," he concluded.