Perak
Misagh Bahadoran explains what triggered move to Perak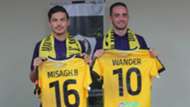 The 31-year-old has spent all his playing career in the Philippines, playing for the likes of Kaya FC and Global FC, with Perak becoming the first club that he has signed with outside of his home country.
Born to a Iranian father and a Filipino mother, Bahadoran once trialed with Japanese club Tokyo Verdy but a permanent move did not materialised. A feature of the Philippines national team since 2007, Bahadoran's signing meant that Perak now only have one more import slot left open - the Asian slot.
An attacking player who can play out wide or in central striking positions, Bahadoran looks to be taking up the slot that used to be Yashir Pinto's. The latter proved to be a crucial figure in Mehmet Durakovic's team and expectations are high on Bahadoran to do the same.
"I would to thank Perak for having me. One of the reason was that I wanted to experience a new league and new country. For two years now, I've had plenty of opportunities to go elsewhere but I always decided to stay in the Philippines and play for Global FC who were always challenging for honours."
"But now, I wanted to experience different league. I found out that Perak is one team who always play together and fight together, I want to help them if I can, to bring Perak to a better standing. Of course it will take time to understand the game here," Bahadoran told Goal.
With Mark Hartmann previously playing for Sarawak and then Penang in the Super League last season, Bahadoran isn't the trendsetter. This season has also seen Kedah take on a Filipino centre back in Alvaro Silva.
Ceres-Negros FC midfielder Iain Ramsey is also rumoured to be on the move to Malaysia with Felda United linked with his services. Bahadoran is confident that opening up the doors to ASEAN players will be beneficial from all aspects. 
"Not really [spoken to Hartmann on the Malaysian league] but I know about him because he used to play for Global too. He's one of the first Filipino player in Malaysia but now there are a few here. I have to find out by myself and not rely on those information from the others."
"It benefits both. Good players from national teams get offered from leagues in Malaysia and Thailand. These are good leagues for them to become better players and reach the next level. It's good seeing new culture, players, technique and coaches," added Bahadoran.
Bahadoran and his new team mates start their 2018 Super League campaign with a tough away trip to Pahang on February 4.