eSports
PES 2018: Release date, cost, consoles, licenses & all the new Pro Evolution Soccer details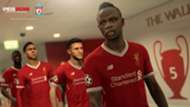 Pro Evolution Soccer is back for another season and looking to increase its dent in a market that has come to be dominated by FIFA in recent years.
After a costly period in which the standard of the game dropped, the past few editions of Konami's football sim have been lauded for the quality and feel of their gameplay and the title is gradually making up the ground it lost on FIFA.
PES 2018 has now hit the shelves and once again, it is earning excellent reviews.
To fill you in on what to expect from this year's game, Goal has all of the latest information about the newest PES title.
---
WHEN IS PES 2018 RELEASED?
---
PES 2018 is out now. It was released on Tuesday, September 12 in the USA and Thursday, September 14 in Europe and Asia.
The last couple editions of the game have come out before its FIFA counterpart as Konami bid to get a foot in front of their biggest rivals, and that was the case again this year. FIFA 18 is due for its worldwide release on Friday, September 29.
---
HOW MUCH DOES PES 2018 COST?
---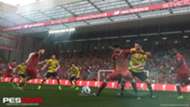 The standard edition of PES 2018 retails at £49.99 ($59.99) on PlayStation 4 and Xbox One. It is slightly cheaper - £44.99 - on PC, PlayStation 3 and Xbox 360.
There is also a special FC Barcelona edition of the game that costs slightly more. That is listed at £57.99 ($69.99) on PS4 and £64.99 ($69.99) on Xbox One and includes special Barcelona myClub agents, a Barcelona theme and 1,000 myClub coins as bonus content.
FIFA is slightly more expensive in the UK; it's standard edition will retail at £54.99 but only $59.99, making it the same price as PES in the USA. The two bonus versions are on offer at £79.99 ($79.99) and £89.99 ($99.99).
---
WHAT CONSOLES IS IT ON?
---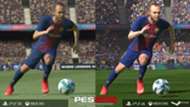 PES 2018 has been released on PS4, Xbox One, PC, PS3 and Xbox 360.
Konami has promised PC players that this year, their experience will live up to that enjoyed by PS4 and Xbox One users. That's big news and something PES has been working towards for a while, with the quality of the PC version tending to fall somewhere in between the new and old consoles until now.
The image above released by Konami, meanwhile, gives users of the older generation of consoles an idea of what to expect compared to their newer counterparts.
---
WHAT ABOUT THE NINTENDO SWITCH?
---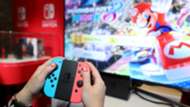 PES 2018 has not been released on the Nintendo Switch.
That's one area in which FIFA has the edge over PES, as EA Sports have worked on a variation of their game dedicated to the new console designed for home and portable gaming.
Konami has not released a version of PES on a Nintendo console since PES 2014 came out on the 3DS in 2013.
---
WHEN CAN I BUY PES 2018?
---
You can buy PES 2018 now.
Digital downloads of the standard and Barcelona editions can be bought through the official PlayStation and Xbox stores, as well as Steam for PC, at the links below.
You can also order hard copies of the game for all of the consoles it will be released on - including PS3 and Xbox 360 - from various retailers in the UK and US.
Click here for Konami's guide to buying options in each country and region.
---
WHO WILL BE ON THE COVER OF PES 2018?
---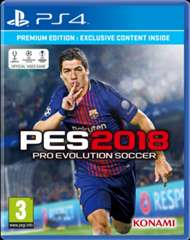 Luis Suarez is the PES 2018 cover star, with the Uruguayan getting the nod over Lionel Messi.
The absence of Messi may be partially due to the Neymar situation. Initially, it appeared Konami would put a selection of Barca players on the cover including MSN in its entirety - but then Neymar took off for Paris Saint-Germain, leaving them with a big problem.
It appears that deal happened too late for them to redesign the cover of the more expensive 'Legendary Edition' of the game, because the Brazil star still features in Barca colours on the front of it.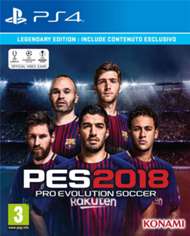 ---
WHAT NEW FEATURES ARE IN PES 2018?
---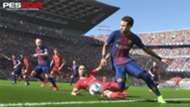 Bolstered by a new game engine, Konami are touting seven new features that will be introduced in PES 2018. They are...
1. In terms of gameplay, the existing model has been tweaked and refined to create a more realistic game speed. 'Strategic dribbling' adds more options in possession and 'Real Touch+' allows the use of the full body for ball control. There are also new free-kick and penalty-kick systems and one-player kick-offs.
2. On the graphics and visual presentation side, expect improved stadium lighting and turf and true-to-life tunnels at some of the world's most famous venues. Motion capture has allowed for a "complete rework" of the animation system and the player models have also been changed to create more lifelike kit fitting.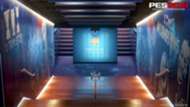 3. Online, new co-op options allow for two-against-two and three-against-three group play.
4. The popular Random Selection Match is back! This mode allows friends to take turns to choose clubs or countries from which they are assigned a random lineup of players. For example a combination of Real Madrid, Manchester United and Inter stars can take on a team of their Barcelona, Arsenal and Juventus counterparts.
Having been neglected a touch of late, Master League has also been given attention with pre-season, a new transfer system and certain presentation elements introduced.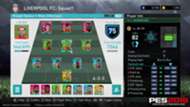 5. All of the menus in the game as well as the tactics and team selection screens have been overhauled.
6. PES will continue to dip its toes into competitive gaming with PES League, which includes myClub, Random Selection Match and online co-op game modes.
7. As mentioned, the PC version of the game is said to have been significantly upgraded to bring it in line with the PS4 and Xbox One versions.
---
WHAT CLUBS & LEAGUES ARE IN PES 2018?
---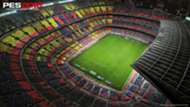 One long-term point of frustration for some who love PES' gameplay has been the lack of team and league licenses, resulting in clubs with names such as Man Red (Manchester United) appearing in the game.
It's still a mixed bag.
Official partnerships
Konami has struck official partnerships with 15 teams, with Barcelona, Liverpool, Inter and Borussia Dortmund the most high-profile. Those teams will be fully licensed and have additional features, such as their home stadiums, included in the game.
The full list of teams is: Barcelona, Borussia Dortmund, Liverpool, Valencia, Fulham, Flamengo, Corinthians, River Plate, Independiente, Colo Colo, Universidad de Chile, Alianza Lima, Sporting Cristal, Palmeiras, Inter.
Licensed clubs & leagues
Beyond the official partnerships, Ligue 1, Ligue 2, the Eredivisie, the Campeonato Brasileiro and the AFC Champions League are all fully licensed with a complete lineup of real-life teams.
PES also has the rights to the UEFA Champions League as a game mode, though not all of the teams that have qualified for it this season are fully licensed.
Other leagues are hit and miss. The only licensed teams in the Premier League and La Liga are Arsenal, Chelsea, Barcelona and Valencia, but all the other teams exist under new names and can be edited.
Everyone is licensed in Serie A except Juventus, and Porto, Benfica and Sporting are all licensed in the Portuguese league. There is also a selection of other European teams that includes the likes of Dortmund and RB Leipzig.
The biggest absence once again, though, is the Bundesliga. There is no Bayern Munich and just three German teams - Schalke being the third - are playable.
---
IS USAIN BOLT REALLY ON PES 2018?
---
He is indeed.
It's a slightly odd feature but Bolt, who has expressed an ambition to pursue professional football when he is finished with sprinting, is playable in PES 2018 in the myClub mode (PES' answer to Ultimate Team). It seems safe to say that he will be the fastest player on the game.
---
ARE ANY LEGENDS ON PES 2018?
---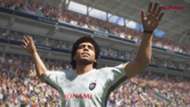 After a legal dispute over the use of his likeness, Konami and Diego Maradona have worked out an agreement by which the Argentina legend will be included in the game and also help to promote it.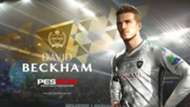 In August, Konami revealed that it had agreed a long-term and exclusive deal with David Beckham that will see the former Manchester United and Real Madrid star feature in the game. Like Maradona, he will also serve as a PES Ambassador.
---
WHEN WILL THE PES 2018 DEMO BE RELEASED?
---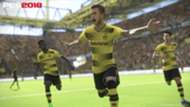 The PES 2018 beta edition was available to play on PS4 and Xbox One between July 20 and July 31.
It was completely free and was devised by Konami in order to make sure the online version of the game is up to scratch for release day.
---
WILL PES 2018 FEATURE VIRTUAL REALITY?
---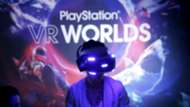 There are no suggestions yet that PES 2018 will incorporate virtual reality.
We're probably more likely to see it in FIFA first, as EA Sports have always put more of an emphasis on the presentation and cinematic aspect of their games - most notably in the creation of The Journey.