Premier League
Guardiola hits back over lack of Manchester City clean sheets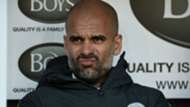 Pep Guardiola has once again bristled at the suggestion that his Manchester City side are defending badly.
Mourinho petulance not helping Man Utd
City beat Burnley 2-1 at Turf Moor on Saturday lunchtime, but failed to keep a clean sheet for the 13th time in 14 Premier League games.
Guardiola, though, has already said this season that he is not overly concerned about clean sheets, insisting that he would rather limit the opposition to just a handful of chances, or to simply out-score them.
And when he was asked about his defence in Saturday's post-match press conference, he replied simply: "I think we defend quite well."
When challenged that City have conceded at least one goal in the majority of their games this season, Guardiola added:  "Ok, well maybe one day we are going to change."
Guardiola was keen to strengthen his back-line during the summer but, despite only being able to sign John Stones during the transfer window, he has been quick to stand up for his defenders when their performances have been questioned.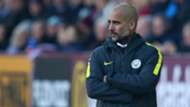 Man Utd offer to worst start in 26 years!
The Catalan also wanted to sign young centre-back Aymeric Laporte from Athletic, and it was claimed by Marti Perarnau, his biographer, that he highlighted the need for new full-backs in a meeting with City's most senior officials in Abu Dhabi in June.
But speaking on Friday, following an often chaotic defensive performance against Borussia Monchengladbach, Guardiola insisted he has no problems with the state of his squad.
"I am so happy about all my players," he contested. "Normally the full-backs always play out and sometimes they try to play inside. It is new for them and new for us. Sometimes they need more time.
"Some of them have the specific qualities to do that, for some of them it is more difficult. All of them, Gael Clichy, Aleksandar Kolarov, Pablo Zabaleta, Bacary Sagna and Pablo [Maffeo], I am satisfied by their performance."
Asked specifically if he wanted new full-backs this summer, he said he was more than happy to retain the players already on the club's books.
"No. We have four with contracts so we spoke with Txiki [Begiristain, the sporting director].
"We had different areas to buy new players. You cannot spend whatever you want because you have a budget to spend. I am satisfied with all of them."