Paulinho
Paulinho staying at Guangzhou Evergrande after porn star indiscretions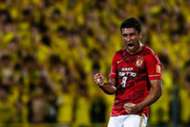 Guangzhou Evergrande have denied reports that Paulinho will be leaving the club, despite recently promoting a betting company with a Japanese porn actress.
Redknapp returns to management
The former Tottenham Hotspur midfielder has been subject to reported interest from Bayern Munich and Real Madrid, despite only signing a new deal in January 2017 with the six-time Chinese Super League champions.
The club, however, have dismissed reports of the Brazilian leaving the club after Paulinho was warned by the Chinese Football Association (CFA) earlier this month for starring in adverts alongside a Japanese porn star.
"We officially announce that Guangzhou Evergrande has never received an offer for Paulinho," a club statement read.
"Paulinho signed a contract extension with Guangzhou Evergrande in January 2017 and is a key player in the club's long-term plan."
The midfielder, who insists he was unaware of the actress' occupation and was duped by the betting company, signed for Evergrande for €14 million from Spurs in June 2015, and his current deal runs until the end of the 2020 CSL season.
Alexis & Ozil too good for Arsenal to lose
"These transfer rumours are normal in the football industry," Paulinho told Chinese media following Sunday's win over Tianjin Teda.
"My agent must have received enquiries from European clubs.
"But I like where I am and I have been having a good time with my teammates and coaches. I'd like to stay here to win more titles."