Goal United
Owen & Beckham in 98, Vardy & Sturridge in 2016 - England boss must listen to the nation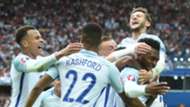 ---

COMMENT
---
He was forced to sit and wait for 135 minutes before he was finally given the nod to make his European Championship debut, but Jamie Vardy dug Roy Hodgson out of a massive hole against Wales on Thursday. And when fellow substitute Daniel Sturridge followed suit in injury time to clinch a dramatic 2-1 win, the pair had made their point. Both of them must start in the Group B decider against Slovakia on Monday.
Before the pair's entrance, England were cumbersome at best in the final third. With an unchanged side from the one which impressed aesthetically but never delivered in the opening game with Russia, Raheem Sterling again played like a man who didn't have the belief to deliver on such a huge stage.
How he missed a seventh-minute chance from close range after Adam Lallana's low cross from the right is anyone's guess. By half-time, every little thing he got wrong was being cursed and barracked by the massed England following.
But when Vardy and Sturridge replaced Sterling and the equally underwhelming Harry Kane with England 1-0 down at the interval there was suddenly an urgency, a belief and a sense of purpose in the final third. There was also a goal threat.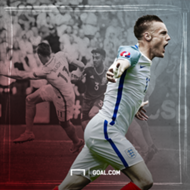 So often, football managers can be pilloried for their team selections only to be proven right. For some, the critcism of Hodgson for overlooking Vardy and Sturridge here was cruel. They are an experienced bunch and have been there, seen it and done it. But just as Michael Owen and David Beckham proved the England fans right and Glenn Hoddle wrong in 1998 with their impact at the World Cup in France, the same shores have seen a similar storyline in this campaign under Hodgson.
It would be a surprise of some proportion now for Vardy and Sturridge not to feature in the first XI in Toulouse on Monday for a game from which England need a point to assure progress to the last 16.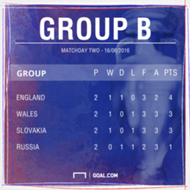 Until they arrived on the field at the Stade Bollaert-Delelis, England looked set for defeat thanks to Gareth Bale's 42nd-minute free-kick after Wayne Rooney had gifted the Real Madrid star a set-piece chance.
The biggest argument for keeping Rooney in this England side regardless of his position is the vast swathes of experience he can call upon. Yet it was his mindless foul on Hal Robson-Kanu, charging through the back of the Welsh striker 30 yards from goal, which teed up Bale's free-kick goal in the first place.
From there Joe Hart covered himself in no glory. Deciding to ask for a three-man wall despite the distance from which Bale was shooting may well have been his first mistake, with their simulated jump helping to hide the ball for just long enough that the Manchester City keeper was half a step late reaching the goal-bound effort. Even then, there is an argument that his attempted save could and should have been more forceful.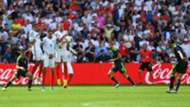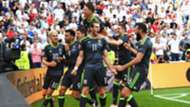 But when England hit back, they hit back hard. With Vardy and Sturridge thrown on at the break, there was suddenly a sense of purpose in the final third. Following a 10-minute siege on Wayne Hennessey's goal, Ashley Williams' misdirected header landed for Vardy, who slammed home from inside the six-yard box.
It was the Leicester striker's fourth goal from five shots as an England player, and his 28th goal of the season for club and country. Should a nation which has spent much of the last decade crying out for natural goalscorers really have been leaving the likes of Vardy on the bench?
The same arguably goes for Sturridge. He may well have suffered from a string of injuries in the last couple of years, but his very inclusion in the squad is a mark of his ability to make a difference in the final third. He started and ended the move which clinched the comeback win, shrugging off Chris Gunter and scooping past Hennessey at the near post.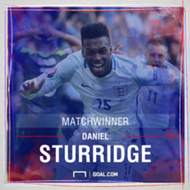 It was a deserved win on the whole, but it was also one which seemed almost impossible at the break. That is the difference top quality finishers can make, and is why Vardy at the very least will start in England's final Group B game. Sturridge, too, has given Hodgson a lifeline his selections have hardly warranted.
Now he needs to pay them both back with spots in the first XI against Slovakia.
Goal journalists are powered by the Samsung Galaxy S7 and Gear 360