PSL
Orlando Pirates to announce new coach next week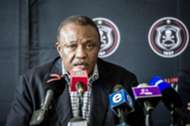 Orlando Pirates club chairman Irvin Khoza has revealed that they will announce a new head coach next week Monday.

The Buccaneers have been searching for a new head coach since late last year with team currently struggling in the Premier Soccer League (PSL).

Khoza disclosed that they could have appointed a new coach last month - but they could not do so as they were prohibited by a buy-out clause.

"Next week Monday we will be announcing a new coach. We were restricted to do so in January by prohibitive buy-out clauses," Khoza told the media.

"It's not easy to find a coach for the Club, and even less so when people you are looking for are held by contract obligations," he added.

"The coach we were looking for, that we promised to announce in January is now available in May. We won't wait that long."
The Bucs club boss indicated that under-fire caretaker coach Augusto Palacios should solve any issues which may exist within the team.
"It's easy to point fingers at Palacios because we are losing. You forget that he delivered us trophies when he came as a buffer," Khoza stressed.
"Palacios is a Professor. That's why he must guide us. Complaining of things you should be controlling shows your shortcomings."
"You need to factor in different things when you release a player. There needs to be a fuller understanding in these things," he continued.
"I don't buy the story that Palacios is complaining about discipline in the team. If there's a problem then he must fix it."