Orlando Pirates
Orlando Pirates coach Milutin Sredojevic rues missed opportunities following Highlands Park draw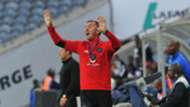 Orlando Pirates coach Milutin Sredojevic believes that their is still room for improvement after his side played out  to a 1-1 draw against Highlands Park on Saturday night.
The Sea Robbers' coach was reacting after their 2018/19 Premier Soccer League (PSL) opening match at Orlando Stadium.
'Micho' also came to the defence of his goalkeeper Wayne Sandliands who conceded a soft goal in the opening half as he failed to control a routine back pass from Gladwin Shitolo.
"First of all we played against a team which used counter attacks and we had to close all of those down," Sredojevic told SuperSport TV.
"We conceded and that put us on the back foot against an opponent that is defensively orientated," he reacted.
"With the result in that regard, I give the players all the credit, they gave everything on the field. We created chances, however we failed to get that equalising goal and scored more, this is something that will make us go and analyse what we have done wrong," the coach lamented. 
"But I believe we have done everything right and they did not shoot at our goal in 93 minutes, but they still got a result – this is football," he continued.
"We need to accept it and we need to be better on build-ups, more penetrative going forward to create more chances," Micho responded.
"We created chances, but could not score that winning goal and we need to analyse, work hard and the next match is in three days because there are things we need to improve on," he said.
"It is the first game of the season and the league is a marathon of 30 matches where you have a chance to make corrections because we are fully aware today we have not achieved our targets – we have to work hard and get wins to get us what we want," continued the Serbian.
"First of all you need to know that he (Sandilands) has to accept this, he has worked really hard for six weeks and one situation comes and he concedes a goal like this," reacted Micho.
"You have two choices, one is to attack on him and to put him in a deeper hole or request the team to give him support – it's really unfortunate and we have to learn the lesson and not repeat it to move on," concluded the coach.