Goal United
Once more for Speedo: Wales can honour their tragic fallen hero by beating Russia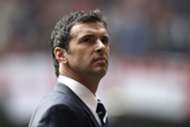 ---

COMMENT
---
With all due respect to Chris Coleman, it shouldn't have been him leading Wales out at their first-ever European Championship finals. He wasn't a part of the plan.
When Gary Speed was handed the job as national team manager in December 2010, he knew he was a piece of a long-term jigsaw the FAW were looking to put together. With a group of talented young players to choose from, it was to be Speed's role to bring that ability to fruition on the international stage. He was the man charged with making Wales a major nation again for the first time in over 50 years, and in his early days at the helm he seemed to be overseeing a real turnaround within the culture of the squad as well as the national game as a whole.
By the end of their Euro 2012 qualifying campaign they were beginning to look more like a contender for major competitions and less like the rag-tag outfit which had been beaten by Montenegro, Bulgaria and Switzerland in their three fixtures before Speed took charge.
But within a year of taking the job, Gary was gone. In a turn of events which stunned his family and friends every bit as much as it stunned the football world, Speed took his own life on November 27, 2011. He was 42.
A coroner determined that there was no evidence to suggest whether Speed intended to kill himself or just deliver a cry for help, but regardless of what was going through his mind depression had robbed Welsh football of one of its footballing sons.
For Speed's family life had to go on, and the same was true of Wales' footballing family. Swansea City went ahead with an emotionally-charged Premier League fixture against Aston Villa that very day, while Speed's former Newcastle and Wales team-mate Craig Bellamy was visibly distraught as a minute's applause was held before his Liverpool side played Chelsea later that afternoon.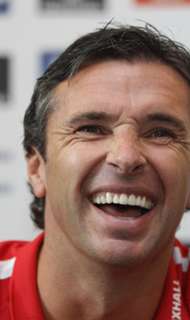 In the weeks and months which followed, the grieving process continued. With Coleman installed as Speed's replacement, Wales took back to the field against Costa Rica in Cardiff in February 2012 for a fixture whose result meant little. It was far more important that a country paid its respects to a brother taken too soon.
And while football in Wales has slowly moved on over the last four-and-a-half years, the pain remains. So too does the respect, with Welsh supporters continuing to sing Speed's name at fixtures.
When they made their first tournament appearance in 58 years against Slovakia in Bordeaux earlier this month, chants of "There's only one Gary Speed" and "Speedo, Speedo" were boomed out from the terraces soon after the jubilation of Gareth Bale's 10th-minute opener had died down. In a moment during which they could have got carried away thinking about goals, games and accolades to come, the Wales fans made sure the world knew that Speed was in their hearts at that moment just as much as any other.
Such renditions were audible once more after 11 minutes of the following fixture against England, and when Wales take to the field against Russia in Toulouse on Monday evening Speed will be at the forefront of their minds once more. They go into the match needing a win to be certain of progression to the last-16, but a draw should be enough.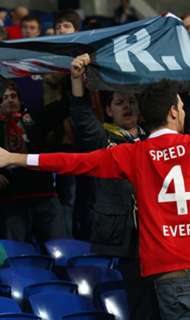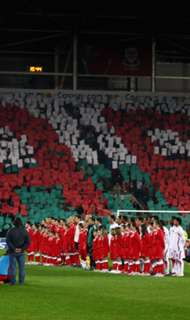 Their passage would have been virtually assured already had they not conceded an injury-time winner to England in their last match, but their response to that setback said everything about the mentality which is rooted in the entire Wales set-up.
Captain Ashley Williams pulled the players into a huddle and told them not to get too down, reminding them they remain in a good position.
"Given the amount of work the boys put in, we shouldn't be too hard on ourselves. This is football, and sometimes these things happen," he told reporters after the game. "We've done ever so well to get here, we've done well in the tournament so far and we're a tight group, so we'll stick together, be proud of what we've achieved so far and move on really."
The current manager insisted on Sunday that Monday's game is nothing special in terms of his readiness to think about his predecessor.
"Speedy's always in my thoughts, but not because of football. I knew Gary since he was 10. It's not just because I'm at a tournament that he's in my thoughts, he's in my thoughts constantly as a friend. I don't need a game of football to remind me of Gary Speed. He's always there."
Nobody could have envisaged Wales finding themselves in such a scenario six years ago, and it says much about the hard work done by Coleman and his squad that they are 90 minutes away from the knockout stage of a major finals.
It also says much about the togetherness and spirit fostered by Speed. He was a man who left behind so many close friends within the game of football. He was a player of immense talent. And he was a manager who was just beginning to show just how good he could be.
It was Speed who made Wales believe again, who told the players exactly what they were capable of and showed them that the mental barriers associated with pulling on the red shirt did not exist in actuality.
And they have spent the time since his passing proving him right. Now they just need one more performance of bravery, commitment, spirit and ability to take Welsh football to new heights. One more positive result, and Speed's vision for Wales will be realised.
Goal journalists are powered by the Samsung Galaxy S7 and Gear 360