Olivier Giroud
Giroud: It was 'definitely' the right move to leave Arsenal and join Chelsea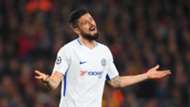 Olivier Giroud is happy with his decision to join leave Arsenal and join Chelsea after being given the chance to start against Barcelona in the Champions League. 
The France international made the switch from the Gunners to their London rivals in a £18 million move as Arsenal brought in Pierre-Emerick Aubameyang from Borussia Dortmund. 
Giroud only joined Chelsea on January 31, but he has made four starts and a further three appearances from the bench. And while Chelsea were ultimately knocked out from the Champions League in a 3-0 defeat at the Camp Nou by the La Liga leaders, Conte opted for Giroud ahead of Alvaro Morata in the crucial second leg.
As a result, the 31-year-old striker says that he is happy with his call to move to Stamford Bridge. 
"Yes, definitely," answered Giroud, when asked by Goal about whether he is happy at his move to the Blues. "I want to be at my best level now, I am working hard in training to be ready. Of course, sometimes you can close your eyes and score and sometimes the goal gets smaller like the other game [Crystal Palace].
"Trust me, I keep working hard and I am doing my best to reach my targets. So you can count on me to do my best, to be at my best level as soon as I can. I feel very good. I try to do what the boss asks me to do on the pitch. 
"If I play, I try to give the best for the team and it is not up to me to speak about tactics. Yes, I feel very good on the pitch and I am trying to help the team to reach our targets. Obviously, the top four is the main target and the FA Cup as well. That's it."
Giroud addressed the difficulties in making a midseason move, but emphasised he is learning the Chelsea set up and is pleased with his progress on the field with his new team-mates. 
"I am settling in quite well. I am very pleased with my understanding with the boys. Obviously, not everything is perfect but I try to be that target man that the boss asks me to be. To be a link with the No,10s, tonight it was Eden and Willy.
"It is not easy to sign in winter for a new club so I try to adapt myself as quickly as I can. I think there's always room for improvement but I am quite happy with what we are doing on the pitch. We have good team cohesion. I think if we play with the spirit we did tonight we can achieve got things at the end of the championship."
Arsenal's signing of Aubameyang triggered Michy Batshuayi's loan move to Borussia Dortmund, while Giroud was then allowed to move to Chelsea in a transfer triangle. 
Giroud, who left the Camp Nou field with a black eye after a bruising battle with Gerard Pique and Samuel Umtiti, thinks that Barcelona beat Chelsea purely because they were more efficient. In particular, he praised Lionel Messi as being the difference. 
"Yes, it is part of my job [to fight], *laughs*" Giroud added in reference to his black eye. "However, we could have been more efficient. We had a lot of chances. We felt that we could have been more dangerous. We succeeded to play our game, we wanted to play this way and we have to be proud of what we have done tonight.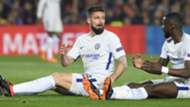 "That's even if we cannot be happy with the result. We are not qualified, obviously, but the thing is that we have done some very good things tonight. When you hit the post four times in two games against Barcelona, it is too much, you need a bit of luck. Even more when you are 2-0 down.
"We didn't get the penalty and it was obvious, for me. It is frustrating because we felt like we could have done it. But at the end of the day they play with a player who is very efficient. It is very hard to play against Messi. He scored three goals and got one assist in his two games [against Chelsea]."