Ligi kuu Bara
Okwi and Bocco top the list of Ligi Kuu shirt sellers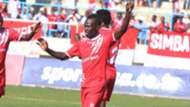 Emmanuel Okwi sells more shirts with this name on than any other Ligi Kuu Bara player, according to Azania.
Other players who join Okwi on the list are John Bocco who is his Simba team mate and Yanga's Papy Tshishimbi and Obrey Chirwa.
The players have contributed significantly to jersey suppliers a good source of income for the two giants.
Harun Manjoro from Mtwara said Chirwa and Okwi are the leading jerseys wanted by fans because more than 8 can be sold in a day.
In Dar es Salaam according to Haikosi Masawila, Papy Tshishimbi, Chirwa and Okwi shirts are the leading in the market as he can sell up to 15 for an individual player.
Emmanuel Okwi is the leading scorer in Tanzania Premier League this season with 13 goals.