World Cup
North American World Cup could create $5B in economic acitivity - study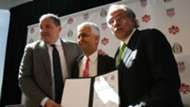 Hosting the 2026 World Cup in the United States, Mexico and Canada could create more than $5 billion in short-term economic activity, according to a study cited by the United Bid Committee on Thursday.
The Boston Consulting Group determined the 48-team tournament also would support some 40,000 jobs and result in more than $1 billion in incremental worker earnings. Individual host cities, meanwhile, would see $160 million to $620 million in incremental economic activity.
These numbers reportedly would lead to a net benefit of $3 billion to $4 billion for the region, with each host city seeing $90 million to $480 million.
"United 2026 offers existing modern stadia, with experienced management teams in each of our proposed host cities and existing modern accommodation and integrated transport systems throughout our host cities," said John Kristick, executive director of the United Bid Committee.
"Our legacy is already in the ground, working, not on the drawing board giving our host cities and FIFA a level of certainty not seen in previous FIFA World Cups and allowing us to focus hosting the best event for the prosperity of FIFA."
The North American bid — which would see the U.S. host 60 matches while Mexico and Canada get 10 apiece — is competing against Morocco for the right to host the 2026 tournament. The proposal features a shortlist of 32 cities, though that would eventually be narrowed to 15 to 18 cities should the North American bid win FIFA's 207-nation vote June 13 in Moscow.
According to the United Bid Committee news release, the study's variations in potential economic impact result from different possibilities regarding "the number of matches hosted, venue capacity, current levels of tourism, cost of living, city population, and geographic size."
"One of the strongest arguments in favor of the United Bid is the certainty that we provide to FIFA and its member associations," Canada bid director Peter Montopoli said. "As this study demonstrates, our hosting of the first ever 48-team FIFA World Cup will yield benefits to all three of our nations, and the global soccer community. United, as one, our three nations' collaboration for the continued growth of the world's game demonstrates the strength of our united effort."
Mexico bid director Yon De Luisa added: "Together, the United 2026 bid represents the largest commercial market in the world, offering the opportunity for substantial economic and social benefit for our host cities and for FIFA, providing the stability needed to propel global football forward for years to come."