Germany
No goals, no spark - what is wrong with Thomas Muller?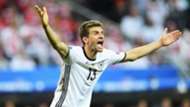 ---

COMMENT
---
After two games at Euro 2016, it's clear that Germany, the reigning world champions, have goalscoring troubles.
The 2-0 win over Ukraine hinged on a knife-edge for long periods, while the stalemate with Poland was insipid and uninspiring. Tuesday's clash with one of the Euros' most stubborn defensive units, Northern Ireland, presents a real problem for Joachim Low.
Germany aren't the only ones struggling in attack as goals have been in short order across the tournament so far – the Euros this summer is providing fewer than two goals per game on average. Four years ago it averaged 2.5 goals per game at the same point, while the 2014 World Cup produced 3.25 goals per game.
But Germany have grappled with finding the right balance in attack since their triumph in Brazil two years ago. Miroslav Klose, their all-time leading goalscorer, retired two years ago and losing a player of such reliability and experience at international level has been difficult.
Most teams at the Euros have at least one conventional, in-form centre-forward, but Germany stand out as one of the few who don't fall into that camp. The country's development system hasn't produced an abundance of strikers. Mario Gomez, who plays for Turkish champions Besiktas, is part of Low's squad following a successful year at club level, but is seen as a potential Plan B off the bench. It's not even clear whether Low rates Gomez at all.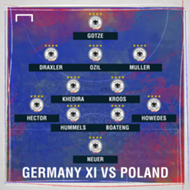 In the supporting roles, neither Thomas Muller nor Mesut Ozil impressed much against Poland, who prevented the Germans from having a single shot on target in the first half. Ozil was one of Germany's hardest working attackers in 2014 and is playing in the No.10 role at his own request. However, despite his excellent return for Arsenal, he's been unable to repay the faith shown by Low. A consummate worker off-the-ball, he can get drowned out if sides defend as stoically as Poland did.
The debate over Muller is more complex. It's bubbled away under the surface for several months since the Bayern Munich forward's form began to plateau – six of his 20 league goals last season arrived after the winter break. The problem is that if he's not prolific then the balance of the team suffers. Muller looked completely off the pace in the Champions League semi-final against Atletico Madrid, and Pep Guardiola would likely have gone without him if he had the luxury of other options.
The European Championship is framing this exact debate on his role within the team: what is Muller's best position? Is he a centre-forward or a roaming wide player? It's clear a Raumdeuter, one of the latest buzzwords in football, isn't quite going to cut it when defences are more organised.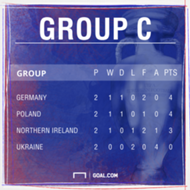 It's a question of balance rather than individual qualities. Muller, undoubtedly, is a player of outstanding intelligence and anticipation, but instead of picking between his three luxury players – Ozil, Gotze and Muller – Low's picking all three. One is an asset, three is a crowd.
Low has to figure out how Muller fits into his 2016 side. His blustering style clashes with the intelligent movement of Gotze and Ozil in particular. If one of them isn't delivering, then there's a serious problem, and Muller, in spite of his phenomenal scoring rate, hampers the collective more than any of the others.
"I'm also not happy," said the Bayern star who, despite scoring 10 World Cup goals, hasn't managed to score once at a European Championship finals. "I'm not bothered with the fact that I haven't scored at a Euros, rather than I haven't helped develop a chance for the team."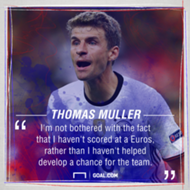 What Germany require is an injection of explosive pace from a player. Schalke's 20-year-old starlet Leroy Sane, an explosive, fleet-footed attacker who thrives in creating one-on-one situations, is an obvious candidate to be given a chance in attack. But the question is who would he replace up front?
Dropping Muller from Germany's starting line-up would ruffle many feathers, perhaps disrupting the mood in the camp. He could move into a central position, but the Bayern attacker would need to step up his game massively to be ready for that.
Although the tournament is just beginning to map itself out ahead of the last 16 stage, Low will be scratching his head already. He's not willing to show it in his calm demeanour, but the knives are coming out in the search for the clinical goalscoring that's been synonymous with Germany for half a century.