Goal United
No goals, no glory - Kane & England's EPL strikers must deliver at Euro 2016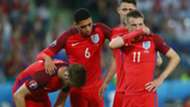 ---

PROFILE
---
It wasn't meant to be this way. True, the pre-tournament optimism that England normally depart with prior to each major competition was partly muted, but the expectation was that they would at least be able to negotiate Group B without too much trouble.
The first half of the opening match against Russia, played against a backdrop of fan violence in Marseille, suggested that Roy Hodgson's side might be able to exceed expectations. However, they were held scoreless through 45 minutes, despite this whirlwind beginning, and though Eric Dier - one of the competition's outstanding performers to date - thundered the Three Lions into the lead after the break, they were unable to hold onto their advantage.   
A more mediocre performance against Wales followed, though the manner in which England overturned Gareth Bale's free kick thanks to the substitutions of their manager was again a source of promise. Four points from two games was virtually synonymous with qualification and meant that against Slovakia – the underdogs of the group – a victory would simply seal top spot.
Hodgson, perhaps inspired by his changes to win the match in Lens, made six alterations to the starting XI. For a third time in succession England dominated the play in an encouraging manner, yet they were once again restricted to claiming a point against limited opponents, save from the classy cameos of Marek Hamsik. The toothless nature of the display matched their previous outings, closing stages versus Wales aside.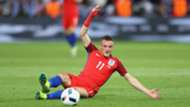 Qualification has been achieved, but the failure to overcome the stoic Slovakians, who they will meet again in World Cup qualifying, means that a hazardous route to the final is likely. 
The inquest is well underway, with Hodgson left with a curious problem. It is his forward line, considered the strongest area of his squad before the start of the competition, that has misfired. He has put it down to the whims of fortune. 
"We'll be criticised for having possession and not scoring," he correctly predicted after the Slovakia draw. "That's the way it goes, I can't deny that. 
"I think the time will come when we'll take these chances. I think some team will be on the end of that fairly soon."
Certainly, there was no shortage of goals between Harry Kane and Jamie Vardy in the Premier League last season – they managed 49 between them. Vardy, of course, found the net against Wales, and while he threatened given the opportunity from the outset against Slovakia, his pace and movement was not enough to fashion more than one clear sight of goal in the face of a deep-lying defence. Kane, meanwhile, has yet to catch light and has suffered similarly from asphyxiation.
Speaking to the media after the scoreless draw at Saint-Etienne's Stade Geoffroy-Guichard, the former Switzerland coach suggested that against more forward-thinking opponents his side may fare better.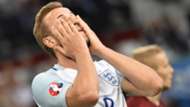 When asked about a potential quarter-final with the hosts, he said: "I don't think France will play in the same way Russia, Wales and Slovakia did. They'll ask questions when they get the ball and that might give us a chance to show we're a good counter-attacking team."
Conversely, though, it will put the defensive qualities of his side to the test. The back four was where the greatest question marks over England's pre-competition capabilities lay, and those worries have not been entirely allayed in the group stages.
Having come under precious little pressure, they have conceded twice. Bale aside, they have yet to encounter a top-level attacker (Hamsik played a midfield role for Slovakia). With potentially Les Bleus and Germany on the horizon, this sector will be tested far more sternly.
England's situation is not as bleak as it is being portrayed in some quarters – after all, they remain unbeaten – yet they have not shown tournament-winning quality. Hodgson knows, though, that with the exception of Spain, neither have their rivals. 
Goal journalists are powered by the Samsung Galaxy S7 and Gear 360.