Miloš Ninković
Ninkovic: Last season just the start of success at Sydney FC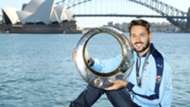 Sydney FC playmaker Milos Ninkovic has hailed his 2016-17 season as the best year of his career and warned rivals his heroics last campaign is only a taste of what's to come.

The former Serbian international arrived at the Allianz Stadium outfit in the winter of 2015 and went on to set the A-League alight, impressing in spades during his debut season.
He played a key role in the Sky Blues' domestic double last campaign as he went on to secure the Johnny Warren Medal in the process. 
With Graham Arnold's men in contention for a total of four trophies this season, Ninkovic, who was recently unveiled as No.1 in Goal's countdown of the 20 best A-League players, claims the club's desire to improve on a near-perfect campaign will make them even more dangerous.
"It's a great feeling to be named as No.1. I am very proud of my team and also myself as well but there is more to come from everyone," he exclusively told Goal.
"It is the best year in my career but this season will be better.
"We will be better and I will be better and I think I have many things that I can improve. 
"I have worked very hard in pre-season to be able to back up my form and there are many things I think I will improve on this year.
"Winning and improving are the main motivating factors for this year.  We have four more trophies to win this season to add to our double and we aim to perform well in AFC Champions League.
"Everything is possible if you work hard and have that belief so these are the achievements I am focusing on for this season."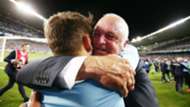 Despite several departures during the off-season, the Sky Blues look stronger than ever, securing the services of Adrian Mierzejewski amongst others.

And Ninkovic revealed he is honoured to feature on the same team as the Polish international, while also praising Arnold for helping his own transition to Australian football.
"Most of the players are still here and we have signed some very good players as well for this season," the former Dynamo Kyiv man said.

"Adrian is a very good player and very good with the ball and he will bring more quality in the front third of the field. I'm excited to be playing with him and the rest of the squad.

"As soon as I came I had a very good relationship with Arnie, he is the only coach I have worked with for more than two years in my career so we have a very good understanding. 
"He has helped me a lot to adapt to A-League football and will help me to get better this year."
The reigning champions return to league action at the Allianz Stadium on Sunday where they will take on Wellington Phoenix.