Super League
Nick Mwendwa: Why FKF forced NSL teams to pay referees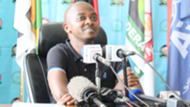 Football Kenya Federation (FKF) president Nick Mwendwa has explained why the National Super League (NSL) clubs are paying the referees officiating in their games.
The federation recently took the decision to pass the responsibility of off-setting the referees payment to the clubs and Mwendwa has said the move was necessitated by the financial situation the FKF finds itself in.
"We have been facing critical financial challenges and even when we have a sponsor the money, we get from them is never enough which leads to late payment of referees," Mwendwa told KTN TV.
The FKF supremo added they struggled to pay the officials last season which led to the late payment and this, he believes, is not good for football generally.
"When one's money is delayed it works against his wish and we have preferred from this season let the clubs pay the officials and so far, we have not heard any complaint," he continued.
The administrator added that FKF is overseeing several other leagues in the country and this strains the little financial resources they have.
"We have seven football divisions in the country; Division One, Division Two and Regional leagues which means there is a lot to be asked from FKF still," he added.
"It is [clubs paying officials] not going to affect the level of officiating and competence because a corrupt referee will take bribe even when the federation was/is paying him."
The second-tier competition has already entered into its matchday two after starting on September 1.