Neymar
Neymar 'stressed' after Cavani spat - Nene says patience required at PSG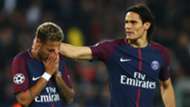 Neymar was "stressed" by his penalty argument with Edinson Cavani at Paris Saint-Germain but will see his patience rewarded, says Nene.
The Brazilian forward took the decision to leave Barcelona for the French capital over the summer in a record-breaking €222 million deal.
Big things were expected of him in Ligue 1, and Neymar has impressed while netting 15 times in 18 appearances.
He was, however, involved in a public falling-out with team-mates Cavani in September, an incident countryman Nene admits was unfortunate as the 25-year-old sought to settle in new surroundings.
The former PSG forward told RMC Sport: "Neymar has never told me that he is disappointed by the treatment he receives in France - he has never said anything like that to me.
"For sure, he perhaps expected a few things to be easier than they are in reality but this is football -- we cannot predict everything.
"Everybody in his entourage knew that he was going to need to adapt. After all, it is a new challenge.
"At the start, patience is required. Of course, there have been a few moments that have been less than enjoyable."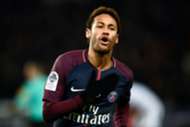 Pressed on whether the Cavani incident had impacted on Neymar, Nene added: "Yes, perhaps he was a little stressed because of that."
Nene, who was on the books at PSG between 2010 and 2013, helped to convince Neymar that a move to France was best for him and he remains convinced that the right decision was taken.
He added: "I gave him my opinion.
"I explained to him about the city, the club and the infrastructure.
"I told him that he would have nothing to regret in leaving Barcelona.
"With Barca, he had won everything, so I said: 'Imagine you go to Paris for a new challenge, with the same structures that you have in Barcelona and maybe better. On top of that, you will have a great team, it is a beautiful city, you will have everything that you want and you will be their great player - the star of the team. If you win a Champions League with PSG, it will be worth 100 times more than if you do it again with Barca'."