A-League
Newcastle Jets given double boost ahead of Melbourne City semi-final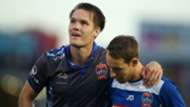 Things are once again looking up for Newcastle Jets with Ernie Merrick confirming both Nigel Boogaard and Ronald Vargas are fit enough to play some part in their looming semi-final against Melbourne City.
Boogaard's return in particular is a welcome surprise with the centre back fracturing his knee two months ago against Sydney FC with many believing he would be out for the season. 
Vargas on the other hand, has been plagued by injury all season and sat out the Jets' last game against Central Coast Mariners with a groin problem.
But as Newcastle prepare for their first final in eight years, the club has finally gotten some injury reprieve with Merrick confirming both players are shaping up nicely. 
"They did really well so they're part of the squad and I suspect they'll play some part in the game," Merrick said.
"The only one out is (Ben) Kantarovski, but Ronny and Nigel are looking very good. It's good to see them training so well.
"We know the formation and the style we'll play ... there won't be too many changes from that last game when we scored eight goals against the Mariners but there's always places up for grabs."
After losing three straight games, that 8-2 win against the Mariners was the perfect springboard into finals for the Jets, who lost 3-0 to Melbourne City the last time they met.