Goal United
Neuer may claim to be the best in world - but he will never get close to Buffon's greatness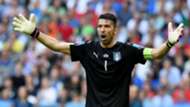 ---

COMMENT
---
Mario Balotelli told Goal last week that Gianluigi Buffon could play in another two European Championships. It seemed like a fanciful claim at the time. However, after watching the Italy captain's heroics in Monday's surprise win over Spain, it is clear that the 38-year-old goalkeeper remains the world's No.1. He may be getting older but he is actually getting better.
Buffon was asked ahead ahead of Italy's meeting with Belgium if he was a better goalkeeper at the age of 24 than Thibaut Courtois. "That was many years ago, so I can't remember," he joked. However, the Azzurri ace added: "I've more awareness now and I'm a lot stronger mentality."
That is undeniably true. When Buffon was younger, he made mistakes on and off the field. The boy became a man at 17, when he made one of the most memorable Serie A debuts of all time by repelling attack after attack in Parma's 0-0 draw with the AC Milan of George Weah, Roberto Baggio and Zvonimir Boban. However, while he became a Superman figure at the Tardini, he was still immature.
During one game against Lazio, he wore a t-shirt with the words 'Boia chi molla' scrawled across it. Buffon pleaded ignorance, claiming not to know the significance of what was a fascist slogan dating back to the days of Mussolini but his reputation was only further tarnished when he chose 88 as his new squad number at Parma. Again, the neo-Nazi connotations were seemingly obvious to everyone bar himself.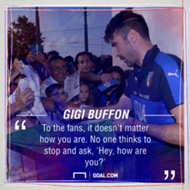 Even his current partner, and mother of his third child, Ilaria D'Amico recently admitted that those controversies put her off Buffon.
"I thought that true love would have been impossible with Buffon," revealed D'Amico to Vanity Fair. "I presumed that he was a stereotypical footballer. It was a bit of a preconception.
"For me, Gigi was an unclear mixture between the champion I knew and an immature man, even the fascist who, at Parma, had once worn a shirt reading 'curse the person who gives up'.
"This always happens when you deal with some country's beloved heroes. All the crap you do as a youngster, as time goes on, tends to make you seem the same, especially if you're a discreet person and don't tell anyone."
Buffon lived his life in the public sphere yet once struggled in silence. In 2003, he suffered devastating bouts of depression. He would sit in his Fiat 500 at Juve's training ground every morning gripped with fear, struggling to find the strength to step out of his car.
"To the fans it does not matter a damn how you are," he later explained. "You are seen as the footballer, the idol, so no one thinks to stop and ask: 'Hey, how are you?'
"The problem was if I had said: 'I am going away for two months to get better' I would have been finished. Because every time after that, if I had failed with a save or whatever, I would have been reminded of that period. I just couldn't allow myself to go away for two or three months to get better.
"But I did see a psychologist and that helped me enormously. But it was something I had had to revaluate. I thought psychologists were people who rob, figuratively of course, money from the insecure. But they are not. They are people who are there to help you and if you find a good psychologist, they will allow you to talk about everything and open up, without the slightest of fears, and that is no easy thing."
Yet he overcame his insecurities. He dealt with disappointments. He ignored his critics. When Franz Beckenbauer claimed in 2013 that Buffon had looked like "a pensioner" in trying - and failing - to keep out a shot from Bayern Munich full-back David Alaba, the Bianconero took it in good grace.
"Making mistakes happens a lot in this type of profession," the Italy captain mused. "But I'm sorry because I compromised the game. I'm sorry for myself, for my team, for my people." He even agreed to appear on the satirical Italian TV show 'Striscia la Notizia' to accept a blanket, a dressing gown and a pair of slippers upon his return to Turin.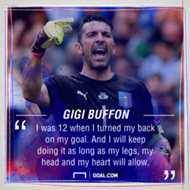 Three years on, nobody is making any jokes about Buffon's advancing years. In March, he broke Sebastiano Rossi's Serie A record for minutes without conceding a goal. On Monday, he produced two sensational saves, from Andres Iniesta and Gerard Pique respectively, to earn Italy a 2-0 win over Spain in the last 16 of Euro 2016.
On Saturday evening, he will go head-to-head with Manuel Neuer, the man currently considered the greatest goalkeeper in the world, for the way in which he has revolutionised the role by effectively serving as a sweeper for both Germany and Bayern Munich. However, he admitted earlier this year that Buffon was his "role model" growing up.
For Buffon, though, it will not be about getting the better of Neuer. He has battled against depression and won. Now he is on a one-man mission to defy the ravages of time. It is a war he cannot possibly win. How long can he go on? Another World Cup? Another two Euros? It does not matter. Buffon will keep fighting until he can fight no more.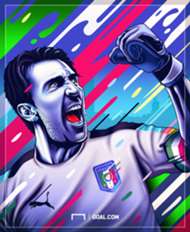 "More than 25 years ago I made my vow: I swore to protect you," he wrote earlier this year. "Look after you. A shield against all your enemies. I've always thought about your welfare, putting it first even ahead of my own.
"I was 12 when I turned my back on my goal. And I will keep doing it as long as my legs, my head and my heart will allow."