Transfers
'Mustafi exit at Arsenal was never close' - Wenger tips German defender for bright future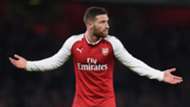 Arsene Wenger insists he never came close to sanctioning the sale of Shkodran Mustafi in the summer of 2017, with the German defender considered to be a big part of Arsenal's future.
After just one season in English football, speculation suggested that the World Cup winner could be moved on by the Gunners – with Serie A side Inter among those reported to be keen.
No move materialised and the 26-year-old has remained at Emirates Stadium for what has been a difficult campaign for both him and Arsenal.
Wenger has seen a £35 million asset struggle at times, with questions being asked in the wake of costly mistakes, but the Frenchman – who will be heading for the exits himself at the end of the season – insists Mustafi has always been a long-term investment.
He said in the Daily Mail: "He wasn't close [to leaving].
"He is a young defender who has had ups and downs. I believe overall he has potential. He is one of the guys who is committed and goes for the challenges.
"He is not one guy who hides from the responsibility, so overall he will be a promising defender for the future. Experience helps.
"In this job, goalkeeper and central defender is a job for old people or older people. So overall that plays a part of course."
While talking up Mustafi's future potential, Wenger concedes that the Germany international has endured a testing period in the present.
He added of a player who has seen errors against Manchester City, Southampton and Newcastle lead to goals: "His confidence is lower.
"He has played many games and most of the mistakes he made have been post-Europa League games because he was a bit jaded.
"On that front that is part of the fatigue factor which would be the explanation why he had some less good games."
Mustafi has made 34 appearances for Arsenal this season across all competitions, collecting 12 clean sheets.