Premier League
Moyes salutes Pienaar's acquisition for Sunderland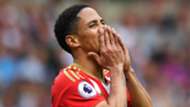 Sunderland manager David Moyes says that Steven Pienaar along with Nigerian striker Victor Anichebe have been their best signings this season.
This is despite the fact that Pienaar has played only once in his side's last eight games due to an injury.
"To be fair, looking at the transfers we've made, you could argue that Steven Pienaar and Victor Anichebe have done as well as anybody," Moyes told the Sunderland Echo.
Having signed defender Joleon Lescott on Tuesday from Greek side AEK Athens, the coach is still looking to add more quality players before the current Transfer Window closes.
"So we have to try and find another couple like that if we can," he added.
"Obviously, I hope the players we get in can make a big difference, but more than likely the ones we are trying to get will be added to the squad to help us with numbers," he continued.
"I think that's fundamental. Players want you to be towards the right end of the table before they choose," Moyes concluded.
Pienaar has made 14 appearances for the Black Cats this season and they languish at the foot of the table.