PSL
Mosimane: Toure disappeared from Sundowns not Kaizer Chiefs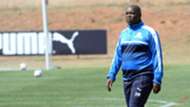 Mamelodi Sundowns head coach Pitso Mosimane has revealed that they have been scouting former Kaizer Chiefs trialist Ismael Olivier Toure.

Chiefs instigated a search for the Ivorian defender a fortnight ago after he failed to board a returning flight home after he was transported to the OR Tambo international airport by the club.
However, the player pitched up at the Sundowns training camp in Rustenburg a few days later and Mosimane has stated that he came at the right time.

"I read about those reports that he disappeared there (at OR Tambo)," Mosimane told the South African media.

"Thulani (Thuswa)), our communications manager, showed me that correspondence when we were in Rustenburg. But let me tell you, the funny part of that story; he disappeared from us."

"We went to scout him in Togo when Ivory Coast was playing against Togo in the finals," the experienced coach continued.

"We scouted him and made arrangements that he should come and expected him when we started (training) on the 18th (of January)."

"This part has never been told by anybody, I am telling you. You hear me on record; he disappeared from us," he added.

"I waited for him to come on the 18th and guess what happened? He pitched. Where was he before? I really don't want to know, I am not interested to know."

"All I have to do is to support my scouting team because they scouted him and recommended him and to come and see him," Mosimane stressed.

"He came at the right time and the right time was to come to Rustenburg. So he came, everything was in time, everything was properly set. Where was he before? I don't want to know," he concluded.