Liga MX
Morelia puts up futile fight as Monterrey continues toward destiny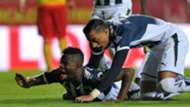 At least Morelia tried.
Sometimes this season that has been pointless against Monterrey. The team with Liga MX's best attack and by far the league's stingiest defense has controlled so many games. After sneaking into the Liga MX semifinals by the skin of their teeth (actually on an offside goal and better regular season finish), Morelia did its best to challenge the superlider.
Three times in the final 10 minutes, Morelia brought Monterrey goalkeeper Hugo Gonzalez into action. Rodolfo Vilchis, also known as "El Pipila," and Sebastian Vargas both had long-range shots blocked out for corner kicks. Angel Sepulveda put his header on target in stoppage time. It wasn't enough with the 27-year-old able to save all three attempts
They weren't the only chances Monarcas had to score Thursday. The home side won a few dangerous free kicks and in sharp contrast to what Monterrey faced in the first leg against Atlas when Rayados were ahead within the first five minutes, it was Morelia that emerged from the locker room with more aggression and put a shot on target within the opening five minutes.
Yet, as in nearly every match Monterrey has taken seriously this year, Los Rayados came out on top. Aviles Hurtado won a penalty kick and converted. Now the series heads to Estadio BBVA Bancomer where Monterrey not only is undefeated in league play in the Apertura but has lost just three times in all of 2017.
#NoTeLoPierdas
G⚽⚽⚽L de Aviilés Hurtado@FuerzaMonarca 0-1 @Rayados 
IDA #Semifinal #Apertura2017 #LIGABancomerMX
⚽ #SienteTuLiga ⚽ #AbrazadosPorElFutbol pic.twitter.com/u87mvz6rRv

— LIGA Bancomer MX (@LIGABancomerMX) December 1, 2017
One of those defeats came against Morelia at the end of last tournament, a famous game with Raul Ruidiaz scoring in the 90th minute to save Morelia from relegation. The club will need something similarly stunning to get through to the next round.
We're on a collision course for an incredible final with Tigres and Monterrey getting ready to contest a Clasico Regio for the league's biggest prize. Indeed, the only thing that looks like it could derail Monterrey's path to the final and a matchup with its crosstown rival is injury. Carlos Sanchez and Dorlan Pabon were fit to start and play Thursday after leaving the second leg of the quarterfinals with knocks. Antonio Mohamed will hope his top scorer Hurtado, who left the contest in the 65th minute with an injury, is fit and ready to go Sunday.
Morelia manager Roberto Hernandez was demanding of his players most of the season, and it's resulted in marked improvement. They showed range in the first leg, dispensing with some of the defensive tactics they relied on during the year since they knew they needed a goal. They didn't find one, and neither odds nor recent history are in their favor when it comes to scoring in the second leg. Yet there's something to be said for a team that doesn't give up, that is actually trying to do everything in its power to pull the upset. Morelia will have to show more than fight Sunday to get through.