Monterrey
Monterrey's Carlos Sanchez out a month after suffering injury while scoring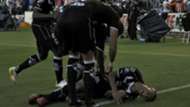 Monterrey winger Carlos Sanchez will be out for three to four weeks with a hamstring tear, the club announced Tuesday.
Minnesota United signs Finnish international
Sanchez burst through the Cruz Azul back line to score in the 40th minute of Monterrey's 2-2 draw with La Maquina this weekend but couldn't celebrate because of pain in his right hamstring, hopping on one leg and eventually falling to the ground.
He carried on long enough for a replacement to warm up but had to make way. Rayados announced Tuesday that the issue is a tear in the muscle, something that will sideline him between three and four weeks. The absence could lead to Edwin Cardona's return to the starting lineup. The Colombian was a key contributor to Monterrey's finish atop the league in the Clausura 2016 but fell out with coach Antonio Mohamed in the Apertura. He's seen time off the bench this season but hasn't started since August 2016.
The club also announced that forward Aldo de Nigris, who was not in the 18 for the weekend match, will miss between 10 and 14 days with swelling caused by fluid accumulation in his right leg.
Monterrey has started the season undefeated with a win and two draws. The team returns to action Wednesday with a Copa MX match in Juarez before returning to league play with a home match against Leon.