World Cup
Messi's goalscoring curse in World Cup knockouts continues in 2018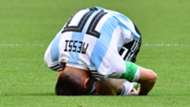 Lionel Messi has once again failed to score in the knockout rounds of the World Cup, bringing his ugly streak to eight games as Argentina was bounced in the round of 16 by France.
The Argentina superstar entered the contest having never scored a goal in the knockout rounds of the tournament and went the distance in his country's 4-3 loss to Les Blues , though he delivered a pair of assists in the defeat.
He had a late opportunity with France then leading by two goals. Using his skill to get through three France defenders, Messi created space, but off-balance was only able to get off a tame effort that was easily scooped up by Hugo Lloris.
Incredibly, the 85th-minute effort was the first shot on target in the contest that didn't go in.
Messi did gain a measure of redemption as he delivered an excellent ball in stoppage time that Sergio Aguero nodded home to half the deficit, but neither Messi nor his team-mates could find the equaliser . 
It also means Messi will end his tournament having failed once more to find a goal in the business end of the sport's showpiece event, a streak that he may never break. 
Dating back to the 2006 World Cup, where he entered Argentina's 2-1 extra-time win over Mexico as a substitute, Messi has played eight games in the knockout round without ever finding the net.
Messi has not always had consistent production in the group stages – he scored once in 2006, and was held scoreless in 2010 only to deliver four goals in 2014. This year, he scored a crucial goal against Nigeria that helped Argentina escape group stage disaster, but missed a penalty against Iceland in their opener.
But his consistency in not finding the net in the group stage has continued, and may prove ever-lasting, unless Messi decides to make one more run in 2022, at age 35, provided Argentina qualify after nearly missing out in 2018. 
Though Messi has yet to score in the knockout rounds, he still often been able to make a positive impact. Two of the previous seven games saw him add an assist in the contest, and the loss against France saw him do even better.
Messi assisted on both Gabriel Mercado's goal, which was a deflection off the Barcelona forward's shot, and Aguero's late tally, as the Manchester City striker scored on a well-placed delivery from the Barcelona man.
Though it was not enough to bring his nation back, Messi became the first Argentina player with two assists in a World Cup match since Diego Maradona did so in 1986 against South Korea. 
Unfortunately for Messi, that is likely to be of small consolation as he faces the very real possibility that this was his final World Cup to break through in the knockout stages and help Argentina to their first World Cup crown since that 1986 Maradona-led squad.