WTF
Messi's family hint at legal action over dictator 'Angel of Death' comparison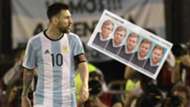 Lionel Messi's family has condemned Argentine publication Diario Perfil for comparing the Barcelona forward to 'Angel of Death' Alfredo Astiz.
Astiz served as a commander in the Argentine Navy during the dictatorship of Jorge Rafael Videla, and was convicted of crimes against humanity for the torture and murder of political prisoners in the 1970s and 1980s.
Ronaldo revels in son's hat-trick
Known as the 'Blond Angel of Death' for his involvement in the atrocities, Astiz was sentenced to life imprisonment in 2011. However, earlier this week, the Argentine Supreme Court decided that some convicts serving sentences for crimes against humanity which occured during the military dictatorship in Argentina could have their sentences reduced.
La familia Messi repudia esta publicación. Así como evalúa denunciar la publicación. pic.twitter.com/yxowfvCGCM

— Ezequiel Scher (@zequischer) May 6, 2017
Also this week, FIFA ruled that Messi's international ban for allegedly verbally abusing a referee would be overturned. The timing of the two decisions led Perfil to compare Messi's ban reduction to Astiz, using an image of both in the Metamorfosis.
The comparison has been denounced by the Messi family, who told Goal that they are outraged by the publication, while also indicating that they are considering filing a lawsuit against Diario Perfil.