Melbourne Victory
Keisuke Honda and Storm Roux - Melbourne Victory's blossoming A-League bromance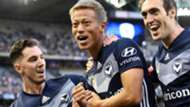 It's the most unlikely of partnerships - a South African-born Kiwi combining with the marquee Japanese superstar in Australia's A-League.
Viewers of Melbourne Victory's matches would have noticed the way Storm Roux and Keisuke Honda have seamlessly integrated on the right flank.
Roux, who joined Victory after five seasons at Central Coast Mariners, spoke of the former AC Milan playmaker's impact on the team and his own game.
"If you see Keisuke free you give him the ball because you know he is going to make something happen," Roux told Goal.
"He has upped my game a lot with our linking up down the right flank and he has helped me a lot with training – I base my position off of his and he bases his off mine.
"We sort of take up each other's spaces after one leaves it open. I know if I make the run that he has got the quality to find me – you're not running for no reason  
"If you're overlapping or making a forward run, he'll definitely be able to find you."
The Mariners finished eighth or lower in four of Roux's campaigns at the club, with the now 25-year-old arriving in Gosford just after the club won their last championship in 2012-13.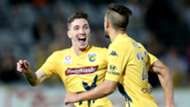 He is now enjoying a new lease of life at the current champions and admits he is enjoying his football and playing his favoured right-back position more than ever.
"I think I had got stale at the Mariners. I had been there for five years. Four of those years were very frustrating and disappointing. We hadn't won anything and we had been struggling for a while," he said. 
"I needed a move to kickstart my career again and when I found out Victory were interested, I didn't have any second thoughts.
"I've really enjoyed playing full back more under Kevin Muscat than I have in previous years. I feel like I understand my role and what's required better this year and what Kevin wants.
"[Victory] was somewhere that I really wanted to go and wanted to be. For me it's the biggest club in Australia."
Despite his natural confidence, Roux was under no illusion of what to expect when he walked into a different environment at Melbourne Victory.
And even though the team sit second on the A-League ladder and are among the championship favourites, he revealed the expectations placed on the players from leaders such as Muscat and Honda.
"I had that feeling coming in to Victory that it was going to be tough and you always had to be on your game. So when I came in I had no real surprises and that's exactly what I got," Roux said
"It's somewhere where you have to be at your best every day in training – especially with players like Keisuke coming in. He drives you even harder at training.
"Obviously [Kevin] was pleased with some areas of [the 4-0 against Western Sydney]. There was still areas we can improve and work on.
"I think even looking at Keisuke's interview after the game – he expected more and he knows we can do better and we can actually improve.
"I think that's how every single player at the club feels as well. We know that's not even close to the final product."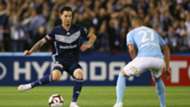 Victory will be shooting for five wins in a row against Adelaide at Marvel Stadium on Saturday night, a match where Roux is likely to come up against in-form Reds winger Craig Goodwin.
While he admitted to being cautious about Goodwin's talents, Roux was confident of being a match for the Socceroo Asian Cup hopeful.
"You know against a player like Goodwin that's going to be a battle. He is a very good player. He is probably one of the better wingers in the league," he said.
"He has an unbelievable left foot that he can use at any time to whip quality balls in. I think you just have to be wary of that and his speed as well.
"I know it's going to be a tough task this weekend but I'm up for it."