Ligue 1
Meet Fabinho - the Man Utd target who is Brazil's next superstar right-back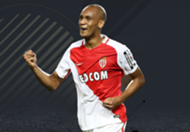 From Brazil to Portugal, before a trip to Spain on the way to a French Principality, Fabinho has travelled an awful long way for a young man whose journey appears to be just beginning. 
The Monaco right-back is turning heads at some of Europe's biggest clubs and is considered one of the leading candidates to be the long-term successor to Dani Alves in the Brazilian national team.
He's come a long way from the bright-eyed teenager who swapped the sprawling metropolis of Sao Paulo for the bustling bright lights of Rio de Janeiro when, as a precocious youngster, his head was turned by the grandeur and allure of Fluminense.
But he barely stopped to refuel in Brazil's capital as, like so many of his contemporaries, he packed his bags and headed for Europe before even kicking a ball at senior level in his homeland.
He headed to the old continent in 2011 to join Portuguese club Rio Ave, but again would up sticks and move on before being offered the opportunity of a first-team bow. After all, when you're handed a ticket to Real Madrid, you grab your passport and jump on board.
Fabinho would have to settle for a role in the B team upon his arrival in the Spanish capital, but so impressed was then Real first-team coach Jose Mourinho, the young Brazilian was handed a debut worth waiting for when he came off the bench against Malaga in 2013.
But, true to form, the nomadic youngster wouldn't stick around, agreeing a two-year loan with Monaco later that year.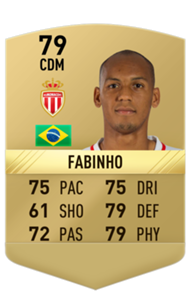 It is there that Fabinho took a breather, finally unpacking his case and settling down. "This is the club that has enabled me to reach my potential at the highest level," he said in September after penning a new deal until 2021.
"I have developed so much since arriving at the club." He certainly has. It is where he found first-team football. It is where he found the UEFA Champions League. It is where he found a home. It is also there where he earned his first Brazil call-up.
At 6ft 2in, Fabinho is an athletic and dynamic full-back and, while only having made four appearances for the Selecao, he has drawn comparisons to a former Monaco and Brazil star, Maicon, who, ironically, Fabinho replaced in the squad for his first taste of international football.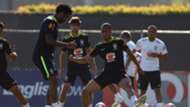 Fabinho was one of the stars of Ligue 1 last season and also finished as Monaco's top goalscorer with six goals. And he leads his team's scoring charts this campaign with five.
The 23-year-old is a penalty expert – 10 of his 12 Ligue 1 goals for the club have arrived from the spot. And it was from there that his strike sealed Monaco's defeat of Villarreal to confirm their place in this season's UEFA Champions League group stage.
He has also shown his versatility of late, stepping forward to star in a midfield role for Leonardo Jardim's title contenders.
For someone who had grown accustomed to travelling such vast distances to kick-start his career, 12-yards is anything but a bridge too far.
It's been a long journey, but Fabinho is enjoying his extended stay in Ligue 1. So much so, that it likely won't be too long before he's packing his suitcase once again.
Check out where Fabinho ranks in the 50 Rising Stars of FIFA 17 Ultimate Team™ right here!