World Cup
Mbappe best teenager ever? How about Ronaldo - Baptista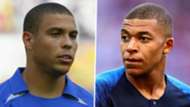 Julio Baptista has warned Kylian Mbappe not to get carried away following his sublime performances at the World Cup and has suggested the France attacker faces stiff competition from former Brazil internationals Ronaldo and Pele for the unofficial title of best teenager ever.
Mbappe has been one of the standout performers at the finals in Russia and played a major role in France's run to the final against Croatia on Sunday.
The 19-year-old scored the winner in the 1-0 group stage win over Peru to become his country's youngest ever goalscorer at a major tournament, before going on to net a double in the 4-3 round of 16 win over Argentina, having won a penalty earlier in the game following a stunning run from midfield.
Mbappe's reputation has since received a significant boost and some have even gone as far as to call him the greatest teenager the game has ever seen.
Baptista is impressed with the Paris Saint-Germain ace's performances at the World Cup, but has urged the youngster to remain humble as he still has a long way to go before he can consider himself a great.
"I think you have to be careful with how quickly you judge. Mbappe is a very young player and depending on how we label him ... that goes around the world and the player can believe it," Baptista told Goal at a La Liga event in Moscow.
"You have to be calm and patient because there have been many good young players, like Ronaldo or Pele. He is a great player, he is developing really well and we expect a lot from him.
"But it was not for nothing that they called Ronaldo 'el Fenomeno,' right?
"With discussions like this I think that sometimes you cannot compare certain players. Pele won three World Cups with Brazil, so you have to give space, time for the player to grow and not harm him by making him believe something he is not yet."
Mbappe has netted seven times in 21 appearances for France since making his debut at senior level in March 2017.