African All Stars
Maurizio Sarri is a genius, says Napoli's Koulibaly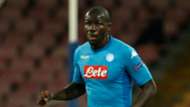 Napoli defender Kalidou Koulibaly has hailed manager Maurizio Sarri as 'a genius' following a blistering start to the season by the club.
The Light Blues have won all their opening seven games of the league season and sit two points ahead of second-placed Juventus.
And the 26-year-old defender has hailed the impact of the Italian tactician on his development and how he has overly improved the whole squad as a whole.
"He rediscovered me, he gave me confidence," Koulibaly told Il Messaggero.
"He really is a genius, he sees things others don't see. He makes you understand how football is and isn't unpredictable. He's a scholar.
"Any question you ask him, he always has an answer - and it's always right. He helps you to think as a team and not as an individual.
"When he arrived he told me: 'Do as I say and you'll become an important player'. I'm trying, but I know I can still improve.
"In short, with Sarri football is maths."
Koulibaly also touched on the game against Roma at the weekend and insists it is not a personal duel between himself and Edin Dzeko.
"They're a great team, and it won't be an easy game," he continued
"My duel with Edin Dzeko? It's not between us, if we don't play as a team then we risk losing, if we do then it'll be easier to win. I could stop Dzeko, then someone else scores and it's over. "We believe [in the Scudetto], they've told me what it's like to win in Naples and now I want to experience it. I don't know if we're the strongest, but I really like playing for this Napoli.
"Right now though we can't think about it, we have to think about Roma.
"Juventus? They have a different history, and money. They've bought great players, this will be a great season." he concluded.