PSL
Matsau: Manqele wasn't given a fair chance at Kaizer Chiefs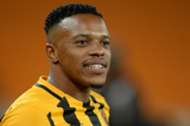 Former Kaizer Chiefs striker Daniel Matsau strongly believes that Edward Manqele should have been given more time to settle down, saying the club was quick to judge the Randfontein-born marksman.
Matsau admitted though that he doesn't know what really transpired behind the scenes, but suspects that Manqele wasn't giving his all at training. 
"When you play for Kaizer Chiefs, you always play under pressure. That's how it is, and if you don't perform well there is going to be pressure on the coach and players," Matsau told Goal.
"I know him (Manqele) from Free State Stars and Mamelodi Sundowns - he is a good player who makes good runs, but we don't know what happened in the team. For me, he didn't get enough chance to play. Maybe he was not giving enough effort at training. So, you will never know what happened," Matsau said.
Matsau feels Manqele is as good as Venezuelan striker Gustavo Paez, who was signed on a free transfer at the start of the year. 
"Players like Manqele like you said, need to be given a chance like they have done with Paez to express themselves. They gave him a chance to gel with the team and you will see that they are the same players who play the same kind of football," Matsau said.
"Manqele has good off-the-ball movements like Paez. So, now you ask yourself why they didn't give Manqele a chance to express himself just like Paez," Matsau concluded