Chelsea
Mason gets open invite for Stamford Bridge return after his retirement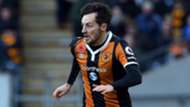 Ryan Mason has been given an open offer to return to Stamford Bridge the same week that he retired from professional football due to the fractured skull he sustained while playing for Hull City against Chelsea in 2017. 
The 26-year-old collided with Gary Cahill in an aerial duel that he tried to return from but, after seeking "the guidance of numerous world-renowned neurologists and neurosurgeons", he has decided to retire. 
Mason's parents, Glen and Lisa, are Chelsea season-ticket holders and left their seats upon witnessing the injury to join him in the ambulance to St Mary's Hospital in London, where he spent eight days and had surgery.  
While Mason has been invited back to the ground, the FA Cup fifth-round game between Chelsea and Hull on Friday is thought to have come too soon for the 26-year-old to attend after his retirement announcement.
Cahill, who visited the former Tottenham midfielder in hospital after the match in 2017, is understood to be devastated upon hearing the news of Mason's retirement, but Chelsea boss Antonio Conte thinks that the defender can't hold himself to blame for the incident. 
"For sure, this is a question for Gary. But, at the same time, I think it's OK when you play and your behaviour is always with great honesty. We are talking about a top player, no? For his commitment, his behaviour during, before and after the game. This type of situation can happen.
"I was a player and I understand it. I broke my leg. My team-mate broke my leg when I was 16, and risked my whole career. But it was an unlucky situation. I repeat: Gary is a fantastic guy, a fantastic person. He must be OK because it's not his fault."
Conte admits that he has not spoken to Cahill about Mason's retirement, but the Italian says he doesn't think there is a problem for his defender moving forward. 
"I must be honest, I didn't speak with him. I think that, if I have to go to speak with him, it means there is a problem. I don't see a problem. Football is this. Sometimes it can happen, this type of situation. The most important thing is there is not the will to do this.
Devastated to hear today's news from Ryan. Competing for a corner is something we've done thousands of times and to see those consequences for a top professional like Ryan is heartbreaking. Sending all my love to him and his family, and wishing him the best for the future.

— Gary Cahill (@GaryJCahill) February 13, 2018
"We are very sad for this news. But football is this. You have to try and accept also these bad situations. They can happen."