Selangor
Maniam has no regrets starting Afiq and Fittri against Sarawak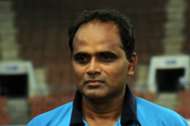 ---
BY        ZULHILMI ZAINAL       Follow on Twitter
---
Having seen his side draw 1-1 against Sarawak in their Super League match on Tuesday with neither of his team's rare starters finding the back of the net, Selangor boss Maniam Pachaiappan insisted that he has made the right first-team pick in the encounter.
Striker Afiq Azmi and winger Fittri Shazwan have only played in the league for a combined 102 minutes this season before the away match, but with Forkey Doe and Veenod Subramaniam absent for the match, Maniam selected the two fringe squad members in the starting lineup.
Afiq became the Red Giants' first substitution in the match in the 58th minute, with his removal even getting an ironic applause from the away fans, who were frustrated by his performance. Fittri meanwhile performed better, narrowly missing a chance to give his side the lead a minute before he was taken off in the 70th minute.
But Maniam defended the pair's selection by him after the match, saying that they were the best available players given the circumstances.
"Those are the players we have, and I think they deserved to play in the first eleven.
"They gave their best, because they hadn't played in the first eleven for so long, after 11 league rounds.
"But of course their fitness levels are not up to the mark, and we have to work on that," answered Maniam when met by the press.
In the match, it was the home side who opened the scoring through Mateo Roskam's 34th minute goal that came following centre back Ugo Ukah's mistake in his own penalty box. But defender Rizal Fahmi Rosid equalised 10 minutes later with a brilliant strike from outside the box.
When asked for his thoughts on his men's performance, Maniam answered that he was satisfied by their domination of possession, despite the inability to convert it into goals.
"In overall, I am happy with the performance of the players. They gave 100% commitment and they were eager to score.
"When we were trailing 1-0, they pressed on for an equaliser and Rizal succeeded.
"In the second half we created a lot of chances, but only the finishing was not there. But I as their head coach and the coaching staff are very happy with their performance," he explained.
The Red Giants' next match will be on May 24, their league encounter against Pahang at home.