PSL
Manenzhe prefers Jele and Mobara at centre-back positions for Orlando Pirates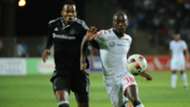 Former Orlando Pirates striker Phumudzo Manenzhe strongly believes that Happy Jele should continue playing the centre-back role despite being on the wrong end of the stick from the club fans.
"I was fortunate enough to see Happy Jele arrive at Orlando Pirates and see him develop at the club as a player. When he got there, he was a centre-back and then converted to a right-back [position]," Manenzhe told Goal.
The fact that he has been used at the heart of the Bucs defence by all three coaches this past season proves his astounding versatility as it suits him well, according to Manenzhe.
"He has done very well in that position. It is his natural position. He is one of the most experienced players at the club. He is a leader, organizer and someone the youngsters in the team look up to for advice. When he talks they take note and listen to him," Manenzhe said.
Jele's partnership with Abbubaker Mobara, who has come to the party in his debut campaign at Bucs, has impressed Manenzhe. He wants Kjell Jonevret to keep the partnership next season.
"Having Jele at centre-back brings communication at the back. So, for me, I would leave him at centre-back and partner him with Mobara," Manenzhe concluded.