Premier League
Man City's aimless tiki-taka, Liverpool's long balls & five tactical lessons from the Premier League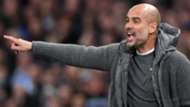 Manchester City have moved two points clear at the top of the Premier League table but Pep Guardiola is likely to have not been completely satisfied with what he saw in their 3-1 derby win over Jose Mourinho's United.
Jurgen Klopp's Liverpool, meanwhile, got the job done against Fulham but not entirely in the style we've become used to seeing under the German boss.
Goal takes a look at five tactical lessons we learned from the weekend's action, including Everton's success in taking Jorginho out of the game and how Wolves used wing-backs to their advantage against Arsenal...
---
Tepid Man City showing proves De Bruyne still missed
---
Despite an outstanding opening 10 minutes and a magical third goal, the biggest take away from Man City's 3-1 win at the Etihad on Sunday is their oddly low tempo, positionally disorganised performance.
On too many occasions their players were not forming the hexagonal shapes Guardiola demands (for those 90-degree passing angles), which meant the defenders were forced to pass slowly in a U-shape - the sort of aimless tiki-taka that Guardiola despises.
Perhaps this doesn't matter - City won, after all - but it allowed Manchester United to stay in the game for a worrying amount of time. If they play like this in their upcoming games against West Ham (away), Lyon (away), Bournemouth (home), and Watford (away), there is every chance they'll be knocked off the top of the table by Christmas.
The main problem was with Bernardo Silva, who too often sat in line with Sergio Aguero (when he should have been moving deeper to receive the ball) or moved to the flank despite Riyad Mahrez also starting wide.
Guardiola never wants two players in the same channel (a straight vertical line), and yet that's just what Silva did throughout the match. The tactical lesson here is that City really do miss Kevin De Bruyne, which opens a small window of opportunity to the rest of the Premier League.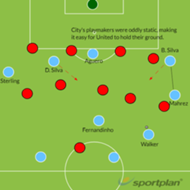 ---
Cross-field diagonals key for Liverpool
---
Liverpool frequently dropped points against weaker teams last season (prior to Sunday, they had only won seven of their previous 20 against teams in the bottom three), and so their minor tactical tweak against Fulham was more significant than it might sound.
Jurgen Klopp ordinarily preaches narrow attacking lines but at Anfield they hit lots of long diagonal passes, switching the play to attack the open spaces outside the visitors' narrow shell.
Fulham's 4-4-2 looked to minimise opportunities to create through the middle - a wise thing to do considering how leaky they've been this season - and Liverpool responded by playing a far more direct game than usual. They attempted 65 long balls in total, a 20% increase on their season average, with Trent Alexander-Arnold and Virgil van Dijk in particular searching for the long pass.
The idea was to stretch Fulham's shape, as well as get runners in behind; there's no space for these runs once possession has reached the final third, whereas hitting them early ensured Liverpool could out-pace the back four before they had a chance to retreat.
The crucial second goal came from a corner that was earned via two long passes to reach the Fulham box.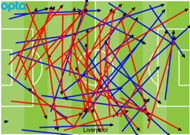 Liverpool's long passes vs Fulham (red = successful, blue = unsuccessful)
---
Gomes & Sigurdsson show how to nullify Chelsea
---
Unlike Manchester City, who are encouraged by opponents that invite pressure, it would appear that Maurizio Sarri's Chelsea struggle for fluency when faced with a deep defensive blockade.
Their attacking patterns are too predictable to drag teams out of their shape, which is why Everton found it surprisingly easy to block Eden Hazard's channel and take Jorginho out of the game. Without these two, and Mateo Kovacic linking them, Chelsea don't pose much of a threat.
Marco Silva deserves credit for his surprising switch to a stand-off approach. The Portuguese usually presses high and looks to match top-six teams all over the pitch, but at Stamford Bridge he won a point with a cagey 4-4-1-1.
Gylfi Sigurdsson sat on top of Jorginho (amassing four tackles and four interceptions), preventing the hosts from filtering their attacks through the Italian, while the rest of his Everton team-mates sat back and absorbed pressure.
In the second half Chelsea upped the tempo and the goal looked imminent, only for Silva to bring Phil Jagielka on, switching to a flat back five. This allowed Seamus Coleman or Michael Keane to step out of defence, nullifying Hazard.
Richarlison's excellent hold-up play certainly helped, as did Andre Gomes's composure when Everton won the ball deep in their half. It was a fairly simple plan that exposed Chelsea's lack of variety; plenty of other clubs will follow Silva's template.
---
Wolves demonstrate wing-backs work vs Arsenal
---
Nuno Espirito Santo's 3-4-3 formation became more of a 5-4-1 on Sunday as the visitors sat back and held just 28% possession, and yet despite their dominance Arsenal just couldn't create meaningful chances.
They only had one genuine chance to score (Pierre-Emerick Aubameyang hitting the post) before Henrikh Mkhitaryan's fluky equaliser, thanks primarily to Wolves's use of a flat back five. They were extremely unlucky not to emerge from the Emirates with all three points.
Unai Emery's team create chances by drawing the opposition out then countering behind them via vertical passes from central attacking midfield. By refusing to come out, packing the middle with three centre-backs, and deploying wing-backs that were free to move out and confront Arsenal's wide men, there was simply no way through for the hosts.
Jonny and Matt Doherty were particularly impressive, blocking Arsenal's favourite route to goal: under-lapping runs. They amassed 10 interceptions between them, highlighting the need to have an extra body on the flanks to cut off Aubameyang's arcing runs in behind and Mkhitaryan's inward movement into the No.10 space.
It won't be a surprise should Arsenal's next opponents, Bournemouth, move to a back three after watching Sunday's game.
---
Newcastle force Bournemouth to revert to possession football
---
Bournemouth have transitioned from a prosaic possession approach to a counter-attacking one in 2018-19, with the speed of Ryan Fraser and Callum Wilson utilised by quick distribution from David Brooks and Lewis Cook.
It is telling that the Cherries have won 13 points from matches in which they've held the minority of possession, and just seven from matches in which they held the majority.
This explains why Newcastle United were happy to concede so much territory at St James' Park; Bournemouth are increasingly reliant on Fraser's trickery from breakaways, while holding an expansive shape for long periods exposes a lack of cover for the full-backs.
Consequently Newcastle's crossing was particularly effective on Saturday, leading directly to both Salomon Rondon goals. Simply by sitting back and inviting the visitors to play, Newcastle conjured the flaky Bournemouth of the last campaign.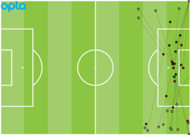 Newcastle's crosses vs Bournemouth (green dot = successful, red dot = unsuccessful)