Asian Games
Redraw changes nothing for OKS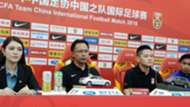 Ong and his team are now in China preparing to face their Chinese counterpart as part of the preparation before the start of the Asian Games later this month. Yesterday, Asian Football Confederation (AFC) organised another draw after Iraq pulled out of the competition.
In the latest redraw, UAE who were drawn into Malaysia's group in the first redraw was the one chosen to replace Iraq in a separate group. This leaves Malaysia needing to content only with South Korea, Bahrain and Kyrgyzstan.
Speaking in the pre-match press conference ahead of the friendly against China, Ong is adamant that despite playing one team fewer, it does not greatly impact the thinking from the management on Malaysia's chances to progress through the group.
"It does not make a big difference, only one match less to play. The challenge is still huge for us. We still have South Korea, Bahrain and Krygstan to deal with and we cannot take anything lightly," said Ong on Saturday.
With one of the three over-age players dropping out of the squad, Ong will have to deal with Aidil Zafuan's absence and look to rely once again in the defensive partnership that got the team to beat Saudi Arabia in the AFC U23 Championship back in January.
Ironically, the same team was scheduled to be played in a friendly in Kuala Lumpur prior to the first redraw. Ong also confirmed that Malaysia will now be travelling back to KL first, instead of flying straight from China to Indonesia.
"I want to see the combination from the players that I have. We are not thinking of the result but more on the understanding because this is our first international game since the match against South Korea." 
"It depends on the situation but I will field the best available XI and all that are fit," added Ong.
The official schedule after the second redraw has yet to be released and depending on it, Ong may look to set another friendly before the team fly out to their camp in Indonesia. Malaysia will take on China in Changzhou on August 5.