Super League
Newly-promoted Kuala Lumpur extend goal machine's contract for another season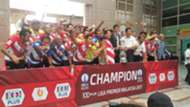 ---
BY        ZULHILMI ZAINAL       Follow on Twitter
---
Premier League champions Kuala Lumpur will have the service of their goal machine Guilherme de Paula for the 2018 season.
Met by Goal during the trophy presentation ceremony in Putrajaya on Tuesday, the Brazilian confirmed that his contract has been extended for another season.
"Yes I've already signed a new agreement for one more season, so I'm very happy.
"We're like a family here. The coach [Fábio Magrão] knows how to boost our confidence, he rotates the squad well and doesn't just rely on the same five, six players.
"The young players have good quality and talent, and now we have been promoted [to the Super League]," said the 30-year old.
When asked about his target for the following season, Guilherme said that his aim is to help the City Boys stay in the top tier.
"I want to do my best for the team in the next season, keep us in the Super League because it's very difficult.
"You can see what happened with Pulau Pinang, they had to battle against relegation in the two seasons they were in the Super League.
Whereas for the cups, the FA Cup and the Malaysia Cup, it'll be difficult but we will do our best," he explained.
When asked about the prospect of playing against his former team Selangor in the Super League, Guilherme downplayed any expectations or bitterness.
Just days after he guided the Red Giants to a 2-0 win over Kedah in the 2015 Malaysia Cup, with both goals in the match coming from his assists, Selangor decided not to extend Guilherme's contract for the following season.
"Our matches against Selangor will be just like any other matches. There'll be no difference for me.
"Okay, I won the cup with them and have good memories, they are still in my heart. But it'll be just another match for me," he remarked.
En route to guiding Kuala Lumpur to their first silverware since 2000 as well as promotion, the former Selangor man has scored 27 league goals this season, to become the league's top scorer. In comparison, the team scored 47 goals altogether in the league.