Malawi
Malawi full of confidence ahead of Kenya friendly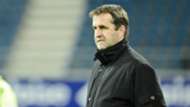 Malawi national team head coach Ronny van Geneugden is confident that his players will show their best against Kenya in a friendly match set for Tuesday at Machakos County Stadium.
After being with the players in a short period, the Belgian believes that the charges have what it takes to challenge their opponents. "The players are very motivated and talented," he was quoted as saying to Nyasa Times.
Just like Kenya, Malawi are also preparing for the upcoming Chan 2018 tournament with their first match in the tournament set to be against Madagascar away in Antananarivo.
Squad against Kenya: Goalkeepers: Ernest Kakhobwe, Lemani Nthala and Brightone Munthali. Defenders: Pempho Kansichili, Yamikani Fodya, Francis Mulimbika, Lucky Malata, John Lanjesi, Stanley Sanudi. Midfielders: Dave Banda (C), Levison Maganizo, Simeon Singa, Harvey Nkacha, Dalitso Sailesi, Kelvin Hanganda, Gilbert Chirwa, Yamikani Chester and Chimango Kayira. Strikers: Manasse Chiyesa and Muhammad Sulumba.