UEFA Women's Champions League
Lyon's women show Real Madrid the path in claiming consecutive Champions League titles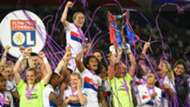 If Real Madrid are in need of inspiration to help them become the first side to win the UEFA Champions League in successive seasons, they could do worse than look to Olympique Lyonnais.
On Thursday night at the Cardiff City Stadium, the French outfit achieved that very feat in the women's game - for the second time.
Their victory on penalties over Paris Saint-Germain was a tighter affair than the free-scoring encounter expected, but Lyon didn't buckle under pressure in the shootout after what had been a thoroughly competitive scoreless draw.
Both outfits have drawn star players from across the world – five of the six FIFA confederations were represented in this clash – yet it was ultimately decided by the goalkeepers.
Lyon shot-stopper Sarah Bouhaddi struck the winning spot-kick as the French champions sneaked the trophy courtesy of a 7-6 success, with PSG keeper Katarzyna Kiedrzynek having moments earlier scuffed her effort wide of the target.
Indeed, the Parisian side, who lost the Coupe de France final to the same opponents by the same method, could count themselves unfortunate not to have beaten their male counterparts to the club's first European crown.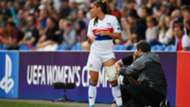 Although this was an encounter in which Lyon dominated possession, there was little doubt about the measure of control PSG held on the match due to their comprehensive tactical superiority.
For much of the game, the capital side had nine players compactly organised behind the ball, allowing their opponents free rein to dictate the pace from the middle of the park. Lyon might have scored over 100 goals in only 22 top-flight domestic games, but for two hours at the Cardiff City Stadium they barely registered a meaningful effort on goal.
An early injury to Alex Morgan certainly did not help their cause. The USA star came into the game having apparently recovered from a hamstring injury that hampered her preparations, yet she lasted barely 20 minutes before being forced off.
Tasked with working out a solution to breaking down a deep-lying defensive line that was formidably organised, OL failed to come up with an answer. Star forward Ada Hegerberg barely had a sniff, and when presented with her sole big chance early in the second half, she was denied by Kiedrzynek in the PSG goal.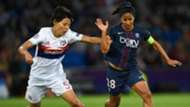 They might not have pushed forward very often, but when they did, PSG carried a far greater threat.
Star player Cristiane was largely kept at an arm's length by the Lyon rearguard, but the Rhone side had more trouble pinning down dynamic wing-back Ashley Lawrence and Marie-Laure Delie, though the France forward spurned what was arguably the game's best chance when she sent a shot wide of the target following the hour mark.
Like so much of PSG's best offensive play, it was an opportunity created by Costa Rica midfielder Shirley Cruz. The former Lyon lady was the game's outstanding player and was a powerhouse for her side along with Formiga in the centre of the field. 
At the back, PSG did not put a foot wrong. France's Young Player of the Year, Grace Geyoro, was formidable and Kiedrzynek in goal was almost flawless until her penalty miss.
Like so many finals played at the top level, it was an encounter decided by fine margins. Lyon's top stars might not have shone to their capacity in this encounter, but instead it was their mental fortitude that got them across the line.
It is a time for celebration for head coach Gerard Precheur and his side. But after being pushed so hard this time around, they will no doubt quickly begin preparations in earnest in an attempt to complete an unprecedented hat-trick of European titles this time next year.
​Just maybe Zinedine Zidane will be plotting a similar course.