UEFA Women's Champions League
Lyon's attack, PSG's Cristiane & why you can't miss the UEFA Women's Champions League final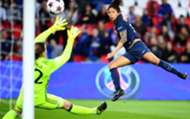 It's the marquee week of the European season.
On Saturday, Real Madrid and Juventus meet to decide who will claim the continent. But before that, there's another battle loaded with star power that is just as unmissable. 
At the Cardiff City Stadium on Thursday night, Lyon tackle Paris Saint-Germain in the final of the UEFA Women's Champions League. It's the first time in European Cup history that two French clubs have appeared in the deciding game, and the stacked nature of the clash presents the possibility of a classic in the Welsh capital. 
---
THE ULTIMATE HEAVYWEIGHT CLASH
---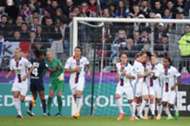 The story of this season's UEFA Women's Champions League is that it's been a two-team affair. Storming through the competition, Lyon and PSG have obliterated the field in devastating fashion to set up a finale between two heavyweights. Lyon are coming off the back of an 11th straight Division 1 Feminine title in France and have now reached six Champions League finals. 
Gerard Precheur's side are the dominant force on the planet, having plundered a remarkable 32 goals in eight games in this season's Champions League, the vanquished list reading: Avaldsnes, Zurich, Wolfsburg and Manchester City.
But PSG can boast a strong record of their own. The capital club have won six of their eight Champions League games this season, and have recorded a plus-14 goal difference in the process. They also handed out a 5-1 hammering on aggregate to Barcelona in the semi-finals - bettering the 3-2 victory Lyon claimed over City in the same round.  
---
BATTLE OF THE STRIKERS: LE SOMMER AND HEGERBERG VS CRISTIANE AND DELIE
---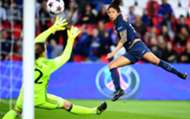 In such a high-powered encounter, it's only natural that both teams are blessed with potent strike forces. Up front for favourites Lyon are Eugenie Le Sommer and Ada Hegerberg. The dynamic duo led all scorers in France this season with 19 and 18 goals respectively. Between them, they added a further 11 in the Champions League to propel a Lyon attack that has been more rampant than almost any in Europe. 
PSG meanwhile are speardheaded by the pair of Cristiane and Marie-Laure Delie. The Brazilian has been among the finest in the world for a number of years and has put together another fine campaign this season, tallying six goals and two assists in only seven appearances in this season's Champions League. Joining Cristiane in attack will be Delie, the club's leading scorer domestically this term with 15 league goals. 
---
LOCAL RIVALRY GIVEN CONTINENTAL SHOWCASE
---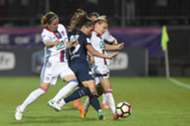 When teams are well-acquainted with one another, there's always an added edge to the affair. 
We've seen that with Real Madrid and Atletico in recent seasons, and Lyon vs PSG carries some similar themes: they're already battling for supremacy at home, they've locked horns several times already this season and now they're taking the duel onto the European stage. 
Don't miss it.