India
Love for India brought Stephen Constantine back for a second spell - Owen Amos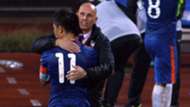 Indian national football team coach Stephen Constantine, who is incidentally in his second spell as the head coach, considers the country as one of his 'homes' and has a real love for the fans in India, according to Owen Amos - the Englishman who co-authored Constantine's upcoming autobiography.
The book, titled 'From Delhi to the Den', published by deCoubertin Books is set to hit the bookshelves on July 25th and is expected to narrate the life story of the 54-year-old manager who is basking in the limelight after leading India into the top 100 in FIFA rankings for the first time in 21 years. 
Goal spoke to Owen Amos who laid bare all the challenges he faced in getting this book published and what the fans can expect from it. He has been working for almost six years on this project and is thrilled to see his hard work come to fruition finally. 
"I first emailed Stephen (Constantine) on 2nd July, 2011, and I suggested the idea to him then. He had a hugely interesting career and has been all over the world. But the people in England did not know much about him. I thought this guy had a lot to tell," Owen said, revealing how the idea came into being. 
"We did a lot of interviews and even wrote some chapters in 2011 and I attempted to get a publisher interested. But there wasn't much interest. I emailed at least ten publishers and most of them thought he was not known enough to sell books in England, where you need to be a big name. In 2015, we resurrected the idea and emailed deCoubertin Books. They liked it and we signed a contract and now the book is almost out. 
"It's been a long process and there has been a lot of hard work and at times we thought it might not happen. It feels fantastic," said a pleased Owen.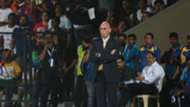 The book details the journey of Stephen Constantine in a professional and a personal capacity and Owen, painting a preview of what to expect from the book, elaborated on the struggles the English coach has had to wade his way through before getting to where he is now. 
"The book details his professional and personal struggles. In fact, he went months without work. He is addicted to football and when you are out of work, along with that, it can be difficult. He had to support his family as well. But he has bounced back brilliantly with India and Rwanda," Owen revealed. "His upbringing was also tough. His mother died when he was 12 and he was very close to her.
"He left home aged 16 after an argument with his dad and he walked out. He never went back. He's had a real determined steak in him and a desire to improve himself. He's getting the rewards now." 
ISL Player Draft: Venue, Schedule and Rules
Having worked with Stephen closely for almost six years, Owen knows a thing or two about the coach as a person. Owen describes Stephen as a disciplinarian who has a helpful nature in him. 
"He has an image of being quite tough and a task master. I was lucky enough to spend a week with his family in Cyprus and he's tough with his family as well. Discipline and hard work is part of everything he does. But he is incredibly helpful to people who ask for it, especially if you are a young journalist or a budding coach. He'll give them interviews and answer mails at odd hours in the day. 
"He has been an underdog throughout his life. He knows who needs help and he will help them because he knows what it takes to come up in life. He says he used to write letters to (Gerrard) Houllier and (Arsene) Wenger etc and they would reply to him. He appreciates that and that is the hallmark of the man," Owen explains.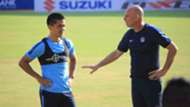 Then the conversation turned to India, as expected, and according to Owen, the fans have two dedicated chapters to Indian football detailing his two spells as coach of the country to look forward to. 
"In the chapter about his first stint, the focus is on how relatively under-developed football was in India back in 2002. He talks about the playing kits, made by a local manufacturer, which were cheap. He went out of his way and struck a deal with Adidas to provide the kits. This happened before the Afro-Asian games in 2003 I think. It was the first time the players had professional football kits. He said the guys were ecstatic to be treated like that."
How Constantine ensured Indian players did not sleep in a stand
"What comes across in that chapter is how Stephen was trying to drag India into the 21st century when it came to football," Owen added. 
"In the second chapter, the country has changed. He also finds that football is at a different level, thanks partially to Indian Super League (ISL). The world knows about India. But he still found things that could be improved.
"He has this burning desire to improve football in India because he loves football and he has a real love for India as a country and the fans. He loves guys speaking about football after stopping him in the middle of the streets. That's why he came back for a second time. He keeps on saying how India can become a top 50 team and possibly a World Cup nation."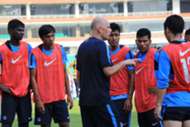 Despite managing countries like Nepal, Malawi, Sudan and Rwanda apart from India in his career, Stephen was apparently insistent on having a reference to India in his book's title - From Delhi to the Den.
"The Den is the name of Millwall FC's ground where Stephen worked and enjoyed the spell greatly. We wanted a title that reflected his work all over the world. We wanted India also there, because he regards it as his home. Those are two of his favourite places," Owen reveals. 
The conversation then took a turn towards the personal challenges Owen himself faced while ghost-writing an autobiography which, incidentally, is his first book. 
"In 2011, I was 27 years old and I was inexperienced and naive. I've never written a book before. I thought it would be easier than it would prove to be. It was difficult. Moreover, we had our first child on 4th December 2016 and the deadline was 31st December. It was tough," Owen recalled. "I had to finish the book while I was looking after my baby.
"Also, when you ghostwrite, I had to write as Stephen talks. To begin with, I didn't capture Stephen well. It takes time and you need to spend time with them. Towards the end, I could write like Stephen speaks. It sounded as if he had written it.
"It was also difficult to double check facts. There wasnt that much information about many games. But it was a fantastically brilliant experience to hear about football in all these countries around the world," Owen concluded. 
The official launch date is 25th July and the publishers are offering FREE WORLDWIDE DELIVERY throughout July on orders from decoubertin.co.uk.