Loris Karius
Liverpool must not give up on Karius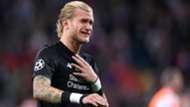 In just a split second, Loris Karius went from hero to villain. From revered to revile. His name now remembered from Australia to Zimbawe albeit for the wrong reasons. Apparently the good old adage 'human beings make mistakes' do not apply when the setting is a Champions League final. His two blunders gifted Real Madrid the cup and the German could only weep in tears.
Criticism came in thick and fast to no surprise but it soon morphed into something more sinister. Death threats were issued to the 24-year-old with some fans taking the loss too seriously. And this is an endemic problem within the game. Many a times we forget that football is to be enjoyed and as fans we must understand that the spotlight on players can be fiercely intense. They are judged by every single action they do. In Karius' case instead of remembering this as a failure, he should see it as a chance for rebirth. He must quickly put the whole episode behind him and use this memory to bounce back stronger. Even though this is easier said than done.
Football can be a cruel sport but it is also kind to those who never give up. The 2012 edition of the Champions League final saw Chelsea take on Bayern Munich which went all the way to a penalty shoot-out.  This episode saw Bastian Schweinsteiger missed his penalty which ultimately gifted Chelsea the European cup. After missing, a bereft Schweinsteiger collapsed onto the ground in tears knowing he had lost it for his side. Dejected but determined he came back stronger and won it for Bayern the next season. And that is exactly what Karius needs to do, follow in the footsteps of his fellow German comrade.
Liverpool instead of searching for a replacement should provide Karius with the support and a conducive environment for him to improve. The Reds need to back their number one and believe in him as Karius has the potential to reach the pinnacle of the game. At just the age of 24 he could be in a very vulnerable position without the right guidance. His heroics this season must not be forgotten in the heat of the moment as he is still a good goalkeeper. What separates an ordinary club or player is its ability to rise up from the lowest of moments. This is what champions are made of. Liverpool only has to take a look at Istanbul 2005 to draw a valuable lesson from this incident.