AFC U16 Championship
Lim refuses to criticise goalkeeper Izhan for needless sending off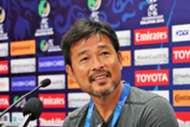 ---
BY        ZULHILMI ZAINAL       Follow on Twitter
---
Hosts Malaysia got off to a brilliant start in the 2018 AFC U-16 Championship on Thursday, after they thumped Tajikistan 6-2 in their Group A match, but they victory was somewhat spoiled by goalkeeper Sikh Izhan Nazrel's sending off.
Three minutes from time with the Young Tigers already leading 6-1, Izhan tried to contend with a long ball sent into his penalty box with a reckless and needless knee-lunge, which caught Tajikistan forward Rustam Soirov square in the chest instead. Referee Ahmad Yacoub Ibrahim Ibrahim did not hesitate to show the young custodian, who has been playing well in the game, a straight red card and pointed to the spot.
Head coach Lim Teong Kim had already used up three substitutions, and defender and skipper Hariz Mansor was made to take over as goalkeeper, but was unable to keep the spot kick out. However, more worryingly, Izhan is expected to miss their next match, against Thailand, through suspension.
But surprisingly, Lim was forgiving towards his first-choice goalkeeper, when asked by the press after the match.
"These are all kids you see, and he played well but committed a very bad mistake. But it's not a problem, he will learn from mistakes.
"I'm sure he feels sad...but it's all part of learning, these boys are allowed to make mistakes. Only then will they learn. Even after this game they are still kids, after playing Thailand and Japan they will still be kids. This is youth development we are talking about, and we have to be patient," said the former Bayern Munich youth coach.
He also does not see Izhan's impending absence as a disadvantage, due to his belief in his squad depth.
"We have 23 players (in the squad), so everyone is equally good, you know? It's a good chance for the reserve (goalkeepers) to play. We have a big pool of players, around 45 of them, but we can register only 23 boys for the competition.
"We must remember that youth development still matters, it's not just about the 23," reminded Lim.
Commenting on the match itself, the 55-year old trainer remarked that he was happy with the way his charges performed and won the encounter, before the torrential evening rain and heavy pitch hampered open play for both sides midway through the second half.
"I am very glad we won our first game," explained the former Malaysia international. "We had been looking for a good start and we got it. Even though the final scoreline is 6-2, it was very difficult, like delivering a child for the first time. The boys were made to work hard, and I'm glad that we've won.
"They played very good football sporadically before the rain came down. But it's a good win and a good start." 
Malaysia will next play Thailand on Sunday in Group A, at the Bukit Jalil National Stadium. Kick-off is at 4.30 pm Malaysian time, with tickets priced from RM10.
The full tournament fixtures can be viewed and downloaded from here.
Read more on Malaysia U-16 and the tournament.
Also follow Goal Malaysia's new Instagram account!