Ghana
Liberty captain Sarfo eyes starting role against Mexico and USA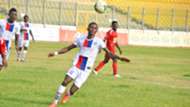 Liberty Professionals captain Samuel Sarfo has shed light on the rise of his career since 2016.
The 26-year-old was handed his maiden call-up by coach Kwesi Appiah for Ghana's Africa Cup of Nations qualifier against Ethiopia but was not used.
However, he now has another opportunity as the Black Stars arrived in the United States for friendlies against Mexico on Wednesday and USA on Saturday.
 "I am really looking forward to those two games [against Mexico and USA]," Sarfo told KweseESPN.
"Hopefully, I will get to make my debut and take my chance so that the coach will have me in mind for a very long time."
The centre-back was one of the policemen deployed to provide security for the Black Stars during the Afcon qualifier against Rwanda in 2016 and has revealed what transpired on the day when he finally met some of the big stars for the first time.
"I remember that day very well. There was so much tension ahead of an important game and we needed to make sure the players had the peace of mind to prepare," he began.
"So we were to restrict as many visitors as possible. I spent time chatting to a few of the players and then took a photo with [Emmanuel Agyemang] Badu. He just could not believe how I could combine my work as a policeman with playing football.
"The police administration has been flexible with me. I am allowed to train in the morning, which is the regular schedule of Liberty Professionals and then, I'm given time off for away trips.
"But after training I don't have the luxury of going home to rest. It is straight back to duties at my post. It is hard work but it is worth it."
Sarfo has revealed how the news on his Black Stars call-up was met by fans and co-workers.
"When I returned to my duty post after the Ethiopia game, everyone at the station was happy for me.
"My Whatsapp (Social media) has been incredibly busy as well, with a lot of messages congratulating me and urging me to continue to do well. I think people identify with things like that and like the idea that I am doing something many would have considered impossible."
He added: "The level here is completely different from what I have been used to in the Ghana Premier League. Everything about training and how you conduct yourself is a step up. If I continue to play well in the Ghana Premier League then, certainly I would get the chance of a move [to a big club]. It is something I am very interested in."
Sarfo has scored six goals and provided two assists for Liberty in their bid to avoid relegation.