Simba
Lechantre: Mbeya City have done an amazing job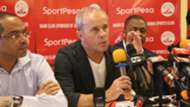 Simba Head Coach, Pierre Lechantre has hailed Mbeya City's performance following their 1-1 draw against Yanga on Sunday.
Despite losing one man in the second half after being shown a red card, Mbeya City fought hard to equalize in injury time to give Simba hope in the title chase.
Speaking to Goal, Lechantre whose side was also held by Lipuli on Saturday said that it is difficult to be one man down and behind by a goal and go ahead to equalize against a team like Yanga.
"They played really well, they were one goal down and reduced to ten men, however, they produced a fight that earned a point, that is really great," said Lechantre.
Simba who lead the table with 59 points are preparing to face second placed Yanga who have 48 points with two games in hand in their next league match set for on April 29.