Super League
League encounter against Pahang a special match for Selangor's Razman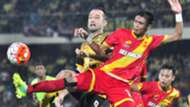 ---
BY        ZULHILMI ZAINAL       Follow on Twitter
---
Selangor skipper Razman Roslan has described the Red Giants' Super League encounter against Pahang this Saturday as a special match for him.
The defender, who began his senior career with Selangor in 2005, left to join the Tok Gajah between the 2013 and 2015 seasons, and he was even appointed as the team captain during his stint.
With Pahang he won the 2013 and 2014 Malaysia Cup, as well as the 2014 FA Cup, before rejoining Selangor in 2015.
"Indeed, to me it is a special match as I used to play for and captain Pahang, and won a number of titles with them.
"But to me, my commitment and responsibilities to Selangor is more important this time around. God willing I will do my best and help Selangor obtain the best result (against Pahang) this Saturday," said the 32-year old as quoted by Selangor's official website.
Heading into the match, Razman has asked for his teammates' fullest commitment, as the Elephants are in a hot streak at the moment.
"As we know, Pahang are a formidable side with quality players this season. I hope all of my teammates can give 100% of their commitment and focus throughout the match.
"Head coach Maniam Pachaiappan's tactics and strategies will hopefully help us produce the results this Saturday," he explained.
Pahang are currently the Super League leaders with 19 points, with Selangor four points behind in fourth place. Their last league encounter at the Darulmakmur Stadium ended in a 3-1 win to the visitors.