Alexandre Lacazette
Lacazette must rediscover his lethality in front of goal if Arsenal are to attain success under Emery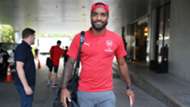 For 90 minutes he huffed and puffed, trying his best to score a goal for his team and hopefully impress his new manager. Alas, it wasn't meant to be for Alexandre Lacazette and Arsenal as they succumbed to a defeat to Atletico Madrid on penalties at the International Champions Cup in Singapore.
Seeing the Frenchman play can be quite frustrating as he looks languid at times when his team does not have possession. Lacazette's work rate is questionable at times but not his ability. The 27 year old was a goal machine at Lyon even being named the named the Ligue 1 Player of the Year the in the 2014–2015 season.
But his time in North London has yet to replicate that narrative and against Atletico Madrid it showed just why. When the golden chance came for him to bury the ball into the back of the net, he failed and for a team that intends to challenge for Champions League places, it simply isn't good enough.
Granted, it may only be a pre-season match but this is the period where you prove your worth and so far for Lacazette it hasn't been going well for him. Compounding matters for the former Lyon player was the fact that a relatively unknown youngster outshone him. Emile Smith Rowe was simply sublime in midfield as he displayed maturity and composure beyond his tender years.
Moreover the 18-year-old scored a goal for Arsenal to add to his all-round impressive performance. Now, for Unai Emery it is back to the drawing board and to figure out how he can unleash the potential of Lacazette.
In the match against Diego Simeone's side Pierre-Emerick Aubameyang was used out wide instead of a front two partnership with Lacazette. Many Arsenal fans are dying to see them in tandem upfront. It is still early days under the Emery regime to see how he will extract the best out of his players, tactically.
But the Spaniard must act fast to revive Lacazette's confidence for the Gunners will need goals if they are to qualify for European football. Emery's time in France with Paris Saint-Germain Football Club was marred by his inability to deliver the Champions League. Indeed there were also reports that he lost control of the dressing room.
Now if he wants to avoid that in England, he must start winning. And Lacazette could be the main key to opening the doors of success should he revive the Frenchman's lethality in front of goal.