Videos
'Lacazette's goal wasn't offside, so f*ck off everybody!' - Arsenal icon Ian Wright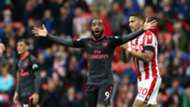 Ian Wright has hit out at the decision to rule out Alexandre Lacazette's 'goal' for Arsenal against Stoke at the weekend.
The French striker turned late on to fire high into the home net when the Gunners were trailing 1-0 against Mark Hughes' men, but rather than be credited with an equalising goal, the former Lyon man was adjudged to have been ruled offside. As a result, Arsene Wenger's men went down to a narrow defeat.
"I love Arsenal," he said on his Instagram page. "They were unlucky. They were unlucky with the referee. They were very unlucky with the referee and the goal wasn't offside, so f*ck off everybody!" 
Replays proved to be inconclusive, although it appeared Lacazette's right boot had strayed beyond the line of the last defender, denying him what would have been a second goal in as many Premier League appearances.
The Gunners have three points after two matches, having rallied late on to defeat Leicester 4-3 on the opening night of the season.