Singida United
Kutinyu: We are ready to take on Mtibwa Sugar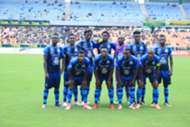 Singida United's midfielder Tafadzwa Kutinyu has claimed that they are not scared of Mtibwa Sugar ahead of the FA Cup final clash on June 2 at Sheikh Amri Abeid stadium.
The Zimbabwean scored two goals in the semi-final including the extra time winner against JKT Tanzania to help his team reach final for the first time.
Speaking to Goal, Kutinyu said that they know that Mtibwa Sugar is more experienced but they will play good football in order to ensure a victory.
"We are Siginda United, we are strong and we can beat any team in Tanzania, we are going to do our best and win the final," Kutinyu said.
Kutinyu who joined the team prior to this season is among the influential players in the squad and there is rumors that he may end up to Yanga next season.