Indra Putra Mahayuddin
Indra aims to make KLFA Stadium a fortress for KL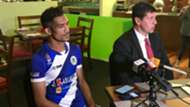 The 37-year-old makes the jump from Kelantan to Kuala Lumpur for the upcoming 2018 season and have already earned the respect and adulation within the club, with him being named as the team's captain for the new season.
Having previously plied his trade with Perak, Pahang, Selangor, T-Team and Felda United - Indra is has played for a lot of different teams throughout his long career that started out back in the 1998 season.
He rejected the advances of Perak in favour of Kuala Lumpur despite the former being his home state and the first team that gave him a professional contract. Indra believes in the project headed by Fabio Joaquim Marciel da Silva and warns that KL will be no pushovers despite being new to the league.
"First of all, I would like to thank KL for accepting me and making me the captain. Hopefully I can help the young players to be better. We have high hopes even though we are a small team. KL have a combination of young and experienced players. We can still grow as a team and what makes us strong is that we are like a big family," said Indra after the presentation ceremony on Saturday night.
In their Premier League title winning run last season, KL played their home matches at Selayang Stadium. For the new season, they will be able to move back to KLFA Stadium in Cheras after the stadium had gone through a big refurbishing job.
Initially planned to be used for the 2017 SEA Games, delays in the works have meant that KL will be the first to play a competitive match in their stadium and Indra intends for his team to acclimatise as quickly as possible, to make it an intimidating stadium for travelling teams.
"As a player, we have to be ready wherever we play. We need to accept whatever situation. That is our home and we have to make sure that becomes our fortress," added Indra.
KL kicks off their journey in the top tier with an opening encounter against Selangor on February 4 2018.